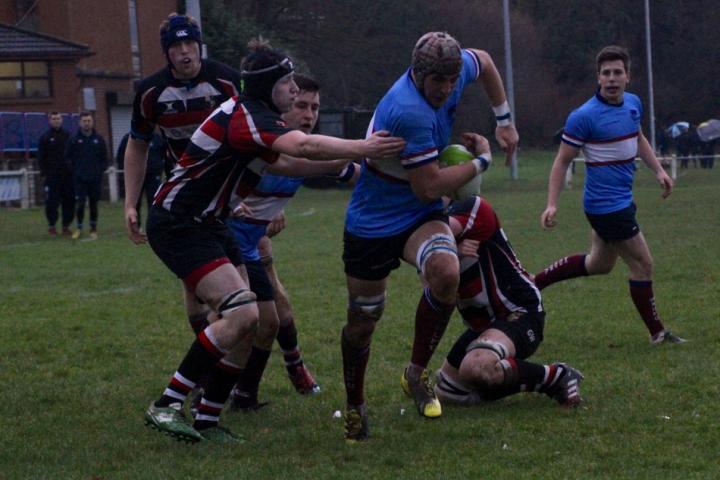 Saturday 10th. December 2016
North 1 West
Wilmslow 31 – 18 Altrincham Kersal
Wilmslow retained their third place position in the league by returning to winning ways with this four try win against local rivals Altrincham Kersal. Twice the Wolves opened up a ten point margin in the first half only to be hauled back to 17 – 13 early in the second period. Two well taken tries in quick succession midway through the half then stretched them out to an eighteen point lead but instead of keeping a firm grip on the game, something which was well in their compass to do, they resorted to carelessly flinging the ball around and kicking away possession. With such bountiful gifts coming their way, AK got themselves back into the game. They might be no more than a mid table side at present but they're no mugs either and they deservedly got a late consolation try.
There is no question that the Wolves have done anything but improve during the autumn, confirming their advance in recent seasons to become a top four side in this league. The challenge for them now is to raise their level again to become genuine title contenders with the top two. Last week they were found wanting at Kirkby Lonsdale and next week the question will be asked again in the starkest terms as they travel to the other unbeaten team, Birkenhead Park.
It only took five minutes for Bob MacCallum to stroke over a penalty to put the Wolves 3-0 ahead. This was quickly followed by the backs sending right winger Hone Karaka on his way. The young Kiwi couldn't quite make the line himself but he made quick ball available at the breakdown for No. 6 Mike Black to barge his way over for a converted try.
AK responded with a simple single phase move from the base of a rock solid scrum in midfield. No. 8 Mico Dyos broke away and two quick passes had centre Kashley Watkins breaking the Wilmslow defensive line to score under the posts.
The Wolves were still the more dominant of the two sides, creating several opportunities without reward. An AK clearing kick under pressure from their own line then went to Karaka, who cut inside and once again quick ruck possession released the Wolves backs. The other Kiwi, second row Tom Williams was either already loitering out in the left wing position or had managed to get across, took the final pass for a try which MacCallum converted from the touchline.
The visitors weren't beaten yet. The Wolves still looked the more likely but couldn't add to their score, whilst AK's No. 10 Jack Emerson took two medium range penalty chances, which made it look interesting again with still thirty minutes to go. He then tried a dinky little chip into no man's land just behind the Wilmslow backs which James Coulthurst managed to get to first and from the ruck Karaka was sent down the right. His inside pass close to the AK line was deemed to have been deliberately knocked forward. The Wolves forwards caught and drove from the ensuing lineout but were held up. From the scrum though, they eventually got the shove on and much to his watching mother's delight 'Alexander', that's Alex Taylor to everyone else, got the touch down.
Not long afterwards, AK gifted the Wolves a scrum in their own twenty two when they had all the time and options in the world to play out of defence but instead knocked on. The scrum was solid, Taylor broke, fed scrum half Ollie Wilkinson and he simply timed his scoring pass to Karaka, who buzzed away for a deserved try.
Thereafter from the Wilmslow perspective, it all went down hill. Like so many sides at this level do when winning comfortably, the Wolves lost concentration. Misguided off loads had them scrambling backwards and loose kicking either went direct to touch or was swallowed up by the AK back three. Jo Kelly on theAK left wing caught everything that came his way and that was quite a lot. AK countered and eventually with five minutes or so still left captain and tight head prop Nathan Bailey found himself swerving past the Wolves defence as though he was a centre three quarter speedster before being hauled down with the try line well in sight. Another single phase move from the base of an attacking scrum then had AK full back Ross Keatch crossing.
The final score probably reflected the overall balance of play on the day. Whether, the Wolves were still feeling the effects of being completely knackered from their efforts the week before or not, they hadn't been at their best and they'll need to tighten up for their forthcoming visit to Birkenhead Park.
On a more personal note, it had been the last home game for the two young gap year New Zealanders before they return to the land of the long white cloud. Skipper Bob MacCallum was delighted that they had both scored. Hone Karaka and Tom Williams have both played a full part during their time at the club and maybe there was just a hint of a tear in the eye from them and the many friends they have made at their impending departure. We wish them well in whatever direction life takes them.
Photo: Mike Black on his way to scoring the Wolves opening try
Match report by David Pike.
Tags: