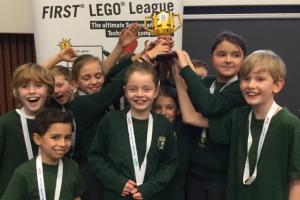 Ten pupils from St Anne's Fulshaw took part in the First Lego League North West tournament at Daresbury Laboratory this week, competing against primary aged children from private and maintained schools across the region.
The team, 'Feathered Fulshaw', entered the global competition in October and had just five weeks to build their Lego Mindstorms autonomous robot and write the programming code in order to complete a series of ten specified tasks.
In addition to using their coding and programming skills to master the robotics section of the competition, they had to consider an engineering problem solving task, based on the theme of the competition: Animal Allies.
Using the premise that technology or engineering can help when the human and animal worlds collide, the children were very keen to address any issues which could benefit the school chickens Bluebell and Anne. They considered how to keep the chickens' imaginations stimulated and also how to ensure that they laid better quality eggs for longer periods throughout the year.
Their problem solving design included: hanging CDs from the ceiling as chickens love light and reflections; solar powered lights to keep them laying eggs for longer in the winter; making salads with worms to keep their digestion healthy; food bowls fitted with sensors which release food when the chickens peck at the bowls; a swing to help them to be active; a mudbath to assist with feather cleaning; a daylight sensor which automatically closes the coop door once twilight has fallen to keep foxes out and food and shelter on different levels to make the chickens feel protected.
The children had to create a display and present their problem and solution to a panel of three judges who marked them on different aspects. These marks were added to the robot games, design and core values sections to decide the overall winners.
Despite being the first time that they have entered the competition, 'Feathered Fulshaw' not only won the robot games element but were also declared overall regional champions. They will now compete at the UK and Ireland final in Bath on 26th February 2017.
Successful teams in the national finals also compete in the FLL World Festival in the USA and at other international FLL events.
Team manager and Deputy Headteacher, Mrs Penny Thomas said "The children were magnificent. The represented the school impeccably, and were excellent team players, listening to and respecting each other while successfully coding their missions on the day. We are thrilled to be heading to the finals and are looking forward to competing at the University of West of England in the spring.... and possibly further afield!"