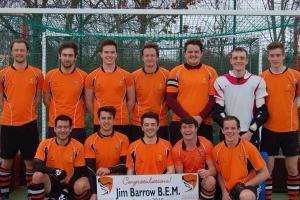 After a week off due to a cancelled game at Windermere, Wilmslow Men's 1st team were chomping at the bit to continue their perfect record against a Bebbington side who historically Wilmslow have struggled against.
Coach-less but certainly not clueless Wilmslow made a rocket start. Some tidy work from Sam Dawson in the D resulted in a penalty corner being awarded. Stand in flicker Matt Westbrook duly obliged and fired a flick high in to the net. Wilmslow made it 2-0 with some excellent individual skill by Steve Edmonds who was able to ghost past three players and score in to the bottom corner to make it 2-0 inside 4 minutes. Wilmslow's domination continued and Paul Hallam was able to extend the lead to 3 and then scored his 2nd and Wilmslow's 4th to lead Bebbington 4-0. Bebbington did manage to win a penalty corner for themselves and were unlucky not to score after hitting the post with a drag flick of their own.
The second half was more of the same by Wilmslow who controlled the tempo from start to finish. Two more goals were scored mid-way through the half both by Andy Hunt with two perfectly executed penalty corner routines. The final score remained 6-0. Ten games in to the season the team have won 10 out of 10 having scored 50 goals and only conceded 11. Long may this continue. Next up are Deeside Ramblers at home in the first reverse fixture of the season.
Elsewhere, the under 13's open the advent season with a 'cracker'! Chester arrived at WHC on a cold December evening hoping the hospitality was going to be warmer than the Styal thermometer was displaying. Cutting to the chase (for those that didn't see the performance) it was a snort ripper of a home victory; Wilmslow 7 - Chester 2.
As has been the case for the first half of this season, Wilmslow started like a squad that were ready to play for one another, and despite the fridge temperatures they were the hottest out of the blocks, as they decided the high press was the preferred option. 

Wilmslow took the lead twice, only to be pegged back each time (1-1, 2-2) by a skilful Chester side that played to some strengths in their fast forward line, exploiting the high defensive line the home side were enjoying.
Without questioning their support for one another, and a substitution policy that wouldn't look out of place at a speed-dating event (rolling subs expertly executed in the 5 degree celsius temperature) Wilmslow reached a chilly half time with a slender lead of 3-2. 

If the first half had been exciting, the second half was pulsating, and the spectators that braved the warmth of WHC's clubhouse to see the final 35 mins of play for the day enjoyed a real treat: Wilmslow netted another 4 goals without reply to finish the game a wonderful 7-2 to the good.
A performance like this only comes about when a squad gels and truly plays for one another, which is what is evident from the results this season. This Saturday's game was typical of the flexibility the squad showed, and a strong defence: Josie, Leo, Gregory, India-Grace and Nieve, neutralised many a Chester raid; with the support from a maturing midfield of Harry, James, Fabio, Honey, Archie and Jack feeding Wilmslow's junior arrow attack of Tee, Thea and Dom...
The real versatility of Wilmslow enabled a good rotation through most sections of the pitch which probably also added to Chester's difficulty in containment. 

Of the 7 home goals scored, Archie finished off a great flowing move to bang in a great goal; but something strange happened for Harry, who bagged a double hat-trick and has since been thinking of doing a Nico Rosberg and retiring at the top of his [junior] game... fortunately Harry's father has told him not to be daft and also pointed out at least one of his goals was marginally a gift, nonetheless the goals did represent the positive spirit of the Wilmslow U13s and the truly entertaining and polished hockey they've been playing this season. Next week they face Triton.
Other scores on the doors, Wilmslow ladies first team beat Prescot 2-1, the ladies second team beat Lymm 3-0 with goals from Fiona Jeffers, Hayley Bull and Jen Nurmi. The ladies 3rd team were unlucky to lose to Oxton 4-0, whilst the ladies 4th team were highly successful with a 7-0 win against Bebbington. The men's second team executed an outstanding game with a 14-1 win over local rivals Alderley Edge, whilst the men's 3rd team drew 3-3 with Brooklands, and the men's 4th team lost 2-0 to Crewe. The under 15 boys also beat Alderley Edge 10-0 in a perfectly executed game.
Match report by Amy Bracegirdle.
Tags: