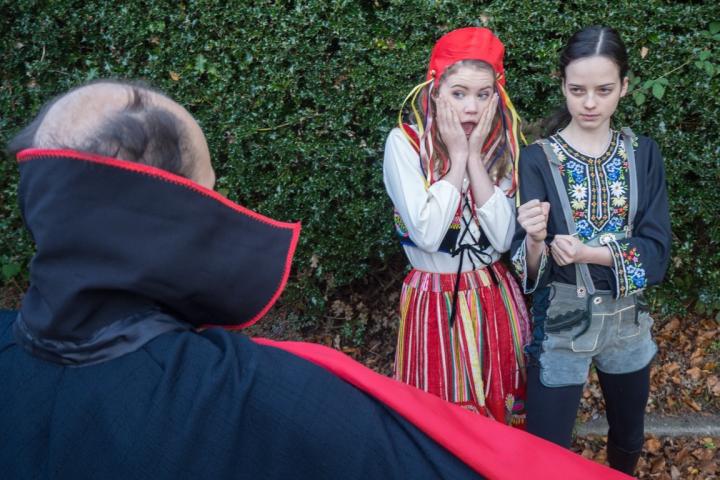 This year's pantomime at Wilmslow Guild is something a little bit different ("Oh no it isn't!") – "Dracula - The Panto"!
It may not be a traditional story like Cinderella or Dick Whittington, but this panto has all the classic aspects of panto you'd expect such as a dame, a villain, plenty of bad jokes and of course the "behind you" scene.
The story is set in a small idyllic village where Dame Rosie Glow, the proprietor of the Flying Mouse Inn, is struggling with everyday life as a mother of two: Jack ("about as useful as a square wheel") and beautiful Sonia. Business is bad because people are disappearing at night. Someone strange and evil lives in the nearby castle. He is said to have pointy teeth... and a werewolf as a butler. When young Richard comes to the village to seek work, hopes are raised that he might be the one to free the people and bring back peace and happiness.
The Guild Players' pantomime is always hugely popular, with many people enjoying taking their children to a show in the run-up to Christmas to get into the festive mood.
Ticket secretary Bill Beton said "People love to come to our pantomime because unlike the big professional shows our theatre only holds eighty.
"This means the kids are really close to the action and they are always totally absorbed in the show. We start early at 7.15pm so it is not too late for the younger members of the audience. We're finished by 9.30pm."
The panto is being directed by Guild Players member Anja Schiebeck. When asked about her choice of panto, she said "I picked this panto because it's got everything a classic panto should have, but with the additional potential of the villain being a vampire. It's definitely a challenge to put on but provides great opportunities for fun, humour and the odd scary moment.
"My favourite character is Boris, Count Dracula's butler," continued Anja. "He is a werewolf who tries to be scary and wild, but he is actually quite cute. He really would like nothing better than to lead a quiet and peaceful life without having to be nasty!"
"Rehearsals are going very well and are a lot of fun," concluded Anja. "Our four young principals are doing an absolutely brilliant job with their parts. We are very proud of them. They are a great addition to our cast of experienced actors, some of whom have been with the Guild Players for years. We are very much looking forward to performing 'Dracula - the Panto' for you."
The pantomime runs from 14th to 17th December at Wilmslow Guild, the adult education centre on Bourne Street. Performances start at 7.15pm with a matinee on Saturday at 2pm. Tickets cost £7.50 for adults and £5 for children and can be booked online (no booking fee) or by calling 01625 520126 or emailing tickets@wgp.org.uk.
Photo: Dracula (Tobias Schiebeck) scares Sonia (Lucy Diss) and Richard (Charlotte MacDonald).
Tags: