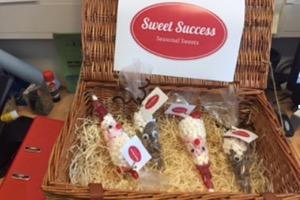 Six Year 10 students from Wilmslow High School have raised £500 so far for East Cheshire Hospice with their Santa sweet cones and it's still November.
Having mastered supply chain management and the art of batch production, the team who are taking part in this year's Dragons Den competition, are now fully stocked with sweet treats for Christmas stockings.
Following two successful outings at Wilmslow Artisan market in October and November, Corben McDonald, Tom Curran, Annabel Rowland, Sebastian Finlay, Rebecca Web, Josh Singh-Rathere and Katriona Munro employed their sales techniques at Manchester Airport on Friday, 25th November, and were in the foyer of Sainsburys in Cheadle at the weekend.
Julia McHarg, Curriculum Team leader Business Education and Enterprise said "If you would like to purchase sweet santas, reindeer or elves for your Christmas table or to complete your stockings, please email me."
Their target is to raise £2000 for East Cheshire Hospice by Wednesday, 14th December.
Tags: