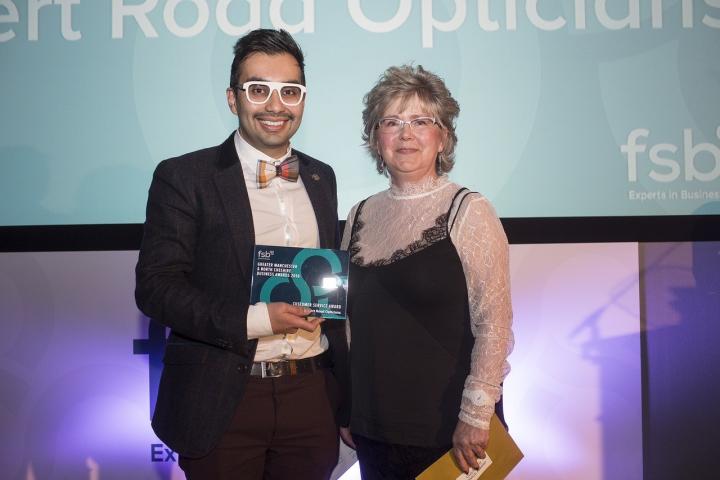 Promotional Feature
A local optician has won the FSB (Federation of Small Businesses) award for best Customer service in Greater Manchester and North Cheshire.
Albert Road Opticians, based in Wilmslow, was up against over 130 businesses in marketing, professional services, manufacturing, construction and HR, and came top of its category at an award's ceremony presented at the Hilton Hotel in Manchester Deansgate on Wednesday 9th November.
Deepak Oberai the director of Albert Road was surprised but very delighted by this award. He said, "It just goes to show what the team can achieve when they are focused". He dedicated the award to his team, who always aim to deliver a service far above what their customers expect.
Albert Road Opticians stand for three main core values: A personal service, expert advice and as purveyors of fine eyewear.
To celebrate their achievement, and to introduce themselves to the community, Albert Road Opticians are hosting an evening at the theatre. They have hired out a full performance of the local theatre, The Green Room in Wilmslow on Friday 2nd December, and are giving away tickets to anyone interested.
The play is a comedy by Alan Ayckbourne called 'Life and Beth'. To reserve a ticket please call Claire on 01625 533087 or email info@albertroadoptician.co.uk. The play is a sell out so this is a great opportunity to watch a fantastic performance and meet the team to find out what sets them apart.
For more details about Albert Rod Opticians visit: www.opticianswilmslow.co.uk.
Tags: