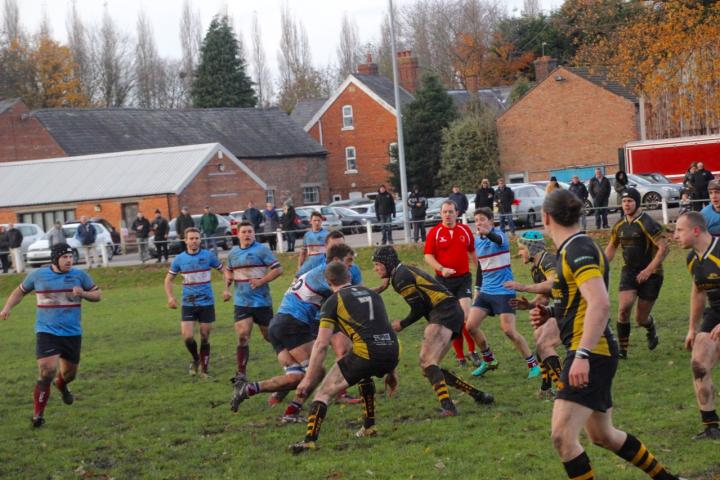 Saturday 19th. November 2016
North 1 West
Northwich 6 – 21 Wilmslow
Against the odds, the Wolves downed the Northwich Blacks on their own Moss Farm cabbage patch, scoring three tries and two penalties whilst just conceding two penalties to the home side. Not for the first time this season, they raised their game to overcome one of the best teams in the league with a compelling performance, which was their best showing since the demolition job they did almost a year ago to the day in Penrith.
All autumn this fixture had been looming as one of the most daunting on the fixture card. Northwich had built on their promotion from the South Lancashire and Cheshire league to assemble a big and powerful side which could take them straight through this league. Despite this set back it might still do so as the only other reverses it has suffered were by two points away at second placed Birkenhead Park and by three points at home to Kirkby Lonsdale.
Their other games with the single exception of St. Benedicts in darkest Cumbria where they had been taken to the wire had been won with plenty of points to spare. Whether this was just an off day, they were missing key players or couldn't find the answers can all be debated but on the day they were outplayed in the critical final quarter, when this game was won and lost, by a pack of hungry Wolves whose fangs got a firm grip and kept them chewed up deep in their own half.
What can make rugby so fascinating are all the subsidiary contests that can go into making up the whole game. In the set piece, the Wilmslow front row of Robert Taylor, Alex Donaldson, Jordan Ayrey and substitute Jonny Evans, all squat little men, had the edge against their bigger Northwich opponents. It meant that Northwich's possession from this source was probably slower and more static than usual, so denying their back line that extra fraction of time and space that you get when your scrum is dominant.
Richard Dale and back row Sam Naylor, drafted into midfield, just didn't get the time they needed and even if they managed to go forward in the tackle more often than not, their break down ball was slow and the Wolves defence was able to cope throughout.
Only twice when Joel Barker broke through was there a hint of any line break. No. 10 Nick Baldwin had to try the kicking game but he was up against a Wilmslow back three of Ben Day, Toby Rowe and Sam Cutts, all of whom are rock solid under the high ball which they just caught and ran back with interest. Tactically, Wilmslow were just better. When it was necessary to pick and drive, the pack did so, when the ball was slow there was some astute kicking from Bob MacCallum and only when it was right did they move it along the line.
Elsewhere the bigger Northwich forwards just about edged it around the field, especially in the first half when they continually crossed the gain line and at the start of the second half, when they really ought to have scored from a succession of penalties and lineouts in the Wolves twenty two. Nevertheless, there was a suspicion that they ran out of steam later on, when the Wolves pack definitely got into the ascendency.
And finally, there was the return of Sean Street, an authentic number nine, to Wilmslow colours, back to the club where he grew up and learnt the game. He's developed, of course, in the meantime, more combative, mature and street wise whilst still retaining his trademark quick lengthy pass. He's clearly the best No. 9 that Wilmslow have had since Charlie Mulchrone and it made such a difference.
The game got underway with two MacCallum penalties in the first five minutes followed by two from Northwich's Nick Baldwin in the next ten. Wilmslow's first try came mid way through the first half when lock Adam Hewitt broke from a ruck on the Northwich twenty two and had the pace to hold off the defence and to touch down in the right corner. For the next fifteen minutes or so, Northwich pressed hard in Wilmslow territory against a feisty defence until Street broke out with an interception to take play for the last few minutes of the first half to the Northwich line.
Street then got himself Yellow Carded for illegally holding back a supporting player. He knew a try was on, took his chance, knowingly offended and got caught. The Wolves conceded a handful of penalties in quick succession and could count themselves fortunate not to have conceded anything more, not least another Yellow Card. As it was, they played down Street's suspension with some canny picking and driving, even though the passing link to the backs without a scrum half was at times chaotic.
No matter, no harm was done and when Street came back on again, a quick pass to MacCallum, moved through centres Ethan Harding and James Coulthurst to the intruding full back Day set up Rowe for a gallop to the right corner for what was to be the decisive try. There was still twenty minutes to play and most of it was spent in the Northwich half. They became increasingly frustrated with too much whingeing which just annoyed the referee.
The Wolves sensibly kept their mouths shut, Jordan Ayrey bossed the scrum, Tom Bull took charge in the close quarter stuff when he came on as a substitute for Hewitt and Hone Karaka, on for Coulthurst, buzzed around like a demented wasp. Alex Taylor somehow failed to touch down when the scrum drove over the Northwich line but the final denouement was not long coming when a desperate quick throw from Northwich was seized upon by Street who gleefully ran in for the third try. The door had already looked closed for some time but Street's try just slammed it shut and that was that.
There were plenty of smiling Wilmslow eyes afterwards, the players knew they had played well and to come away with a win over a side like Northwich, away from home, was very satisfying.
Photo: Tom Williams takes them on.
Match report by David Pike.
Tags: