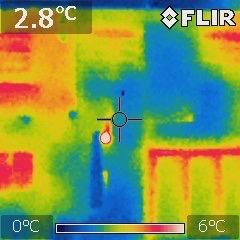 A local organisation which aims to protect and improve the natural environment and promote the prudent use of resources is offering free surveys to local householders to assess the heat loss from their home.
With temperatures dropping it is time for many to think about reducing winter fuel bills so Transition Wilmslow will be carrying out house energy savings surveys for local residents.
Over the past few winters, thanks to government aid and a £2000 grant from Wilmslow Town Council, over a hundred local dwellings have been successfully.
Ali Berry of Transition Wilmslow said "With the use of a thermal camera hot and cold spots can be identified and advice will be given on how energy can be saved. Often quite simple, low-cost remedies can be applied. This is a way to reduce your fuel bills, keep your home warmer and to do your bit for the environment."
The picture above was taken with a thermal imaging camera. The red is heat escaping, and shows that some of this house does not have cavity wall insulation, whilst the windows are also leaking heat (even though they are double glazed). This picture is of an old Wilmslow house on the left with a modern extension that has been insulated.
If you'd like to have your house assessed by a team from the Transition Wilmslow Energy Group then contact Ali Berry on 07887 425387, or email to make an appointment.
Ali added "We are confident that you will find it worthwhile."
Tags: