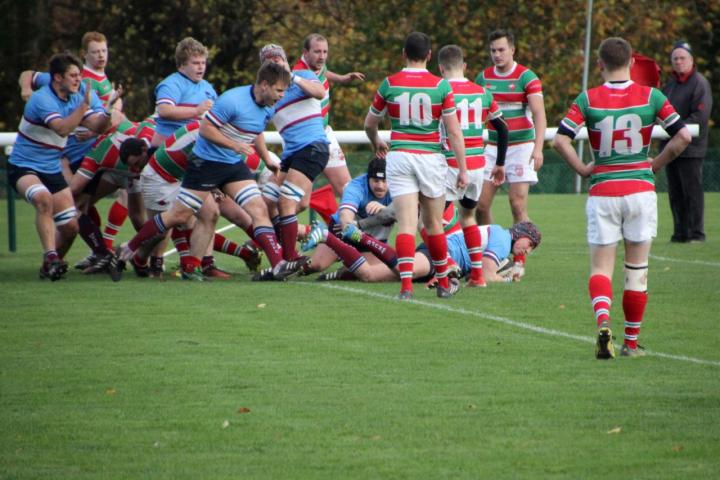 Saturday 5th. November 2016
North 1 West
Warrington 36 – 46 Wilmslow
The first icy blasts of on coming winter were blowing across the Walton Lea ground but they didn't prevent these two sides from playing rugby to warm the cockles of your heart. Between them, they scored thirteen tries, five from the home side and eight from the visitors. Ten of them were scored in a helter skelter second half at the rate of one every four minutes. Wilmslow had their noses in front for all of the second period but Warrington kept hitting back and the matter wasn't settled until the last few minutes of play.
That the players could produce such a game was largely due to referee Robert Sheard, whose enlightened brand of officiating allows the game to flow. Mr. Sheard is a regular on the North 1 West refereeing panel, he knows the players and they know him but it's his clear audible instructions to them such as 'Penalty Advantage', 'Scrum Advantage', 'Get Back', 'Leave It Alone', 'Release It' and others that all help to keep the players on side, to reduce the number of stoppages and to just make the game a better experience for everyone.
The Wolves were missing three of their most influential forwards and there were concerns that the pack might not be as effective as it had been in recent matches. Not a bit of it. Young Jonny Evans at loose head prop is to the manor born and was never once inconvenienced throughout the whole game, Loui Staples brought into the second row settled well and the side was also fortunate to have their experienced past captain Mike Black to take the Number 8 spot. The strength of this season's Wolves has been in the forwards and this was apparent again as they scored six of their side's eight tries. That's not say that the usual suspects in the back division didn't play their part as well.
Warrington showed that they possessed a quick silver set of elusive backs who looked as though they could score any time they got the ball. In particular, their two wingers Nathan Beesley and Tom Arnold scorched over the turf, after burners fully ablaze, every time they had the chance. Their two tries apiece were testament to the havoc they caused in the Wilmslow defence.
It was Beesley who set up Warrington's first attack straight from the kick off, finding space on the right touchline to race into the Wolves twenty two where only a forward pass prevented an opening score in the first minute. No matter, from the ensuing scrum and clearing kick, Warrington regained the ball and crisp handling put left winger Arnold in for a try converted by Ben Hockenhull with the only successful kick at goal from that end of the field throughout.
It soon became apparent that the Wolves had the stronger set piece as they began to play more in the Warrington half. After just five minutes big Tom Williams made a surge into the home sides twenty two and off loaded to Full back Ben Day, whose scoring pass was spilt by the recipient taking his eye off the ball. Soon after, Hockenhull had a chance to extend the home side's lead with a penalty which the wind got hold of and pushed wide of the goal posts. It was an escape for the Wolves but they were soon getting on top and creating decent positions. A Bob MacCallum penalty got them off the mark after twenty five minutes and a second followed ten minutes later from a typical break by Day. Warrington were then made to pay dearly when they lost a man to a Yellow Card, a period during which the Wolves scored three tries. The first on 40 minutes was a straight forward catch and drive finished off by Max Harvey. The second followed immediately when MacCallum kicked a penalty into touch on the Warrington twenty two. Good lineout ball led to a powerful surge by Harvey and quickly released ball spun along the line where Sam Beckett coming in off his wing found the space to run in for an excellent try.
The second period started with Hockenhull kicking three points to peg the Wolves back to 16-10 but within moments they had penalty advantage from a lineout in the Warrington twenty two which ended when somehow Robert Taylor got across to score out wide on the other side of the field. A Ben Day surge from halfway set up a series of drives on the Warrington line, the last of which yielded a second try for Taylor. They were attacking again when a pass was intercepted enabling Beesley to run in the first of his two tries.
Five minutes later, it was No. 8 Black's turn to touch down from another series of forward drives, followed by a second catch and drive from Harvey.
A good restart kick then got the Wolves into trouble, centre James Coulthurst was lucky not to see Yellow for a deliberate knock on but Hooker Alex Donaldson did for an offence on the floor which enabled Warrington prop Tom Green to score from the penalty. MacCallum's restart returned the compliment and was knocked back to be gathered by Williams who galloped from 40 metres for try number 7.
At 41-24, you would have thought the Wolves were now out of sight. You would have been wrong. First of all, a Wolves knock was latched on to by Warrington winger Arnold who ran the distance for his second try and immediately afterwards Beesley got his second after his team had run the restart from their own twenty two. There was now a jaunt to the Warrington step as they felt a sixth match winning try was in their grasp but sadly for them they knocked on. The Wolves won the scrum and with time running out started to play down the clock with some tight pick and drive stuff. The last thing they wanted was the Warrington back line running at them again so they went down the narrow side and released MacCallum who had the gas to score the eighth and final try which settled it.
It had been an excellent match but the coaches would have been tearing their hair out at their charges defensive work and tackling. The players of both sides won't be surprised if there's a lot of tackling and defensive work to be done in this week's training.
Photo: Try for Max Harvey from a catch and drive.
Match report by David Pike.
Tags: