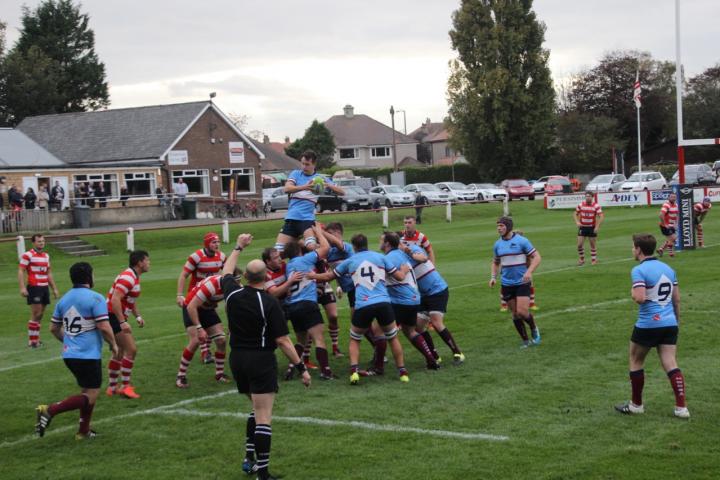 Saturday 22nd. October 2016
North 1 West
Vale of Lune 19 – 40 Wilmslow
After a series of stuttering performances, the Wolves, at last, got into gear against Vale of Lune. A storming second half yielded four tries and twenty seven points as what they had been practicing in training started to pay off in a game during which they retained a higher tempo and rhythm than anything hitherto seen this season.
It was also a team performance, albeit with some outstanding personal contributions. If Toby Rowe, playing in his preferred position at fullback, was the catalyst with his barnstorming runs from deep, then prop Jordan Ayrey stood out with his work rate. 'C♦♦♦♦♦, he's a bit quick for a No. 1', muttered a disbelieving Vale supporter after yet another hurricane like charge from him. And then there was the rangy Kiwi lock, Tom Williams who just becomes more and more influential, game by game. There were others too; young Sam Beckett on the right wing clearly relishing the opportunity to grow into 1st. team rugby; the Maori Hone Karaka who showed us all what we had been missing when he came on as a late substitute with a scintillating cameo performance; the Taylor brothers in the thick of it and Max Harvey, who has maybe found his best position at No. 7. And surveying it all, 'le petit general' himself, Bob MacCallum at No. 10. He looked to be enjoying it all as he helped himself to fifteen points with half a dozen of the sweetest struck kicks at goal, that you'll ever see.
Prior to kick off, there was a feeling amongst the Lunesiders, that their first win of the campaign against Altrincham Kersal followed by an effort at Birkenhead Park, that could and should have produced more than just losing bonus points, had ignited a spark, which would engender the confidence and belief to carry their side forward.
Vale scored twice in the first half, the first try coming on the quarter hour from a wide backs move, which had former Wilmslow player Fergus Owens, now 32 and playing on the Vale left wing, delivering a perfectly judged inside pass to his full back Chris Ramwell for a well created try, converted by No. 8 Ben Dorrington. Their second had something of a sucker punch about it as the Wolves got penalised at a scrum in midfield and from the ensuing front of the lineout move second row Tom Cvijanovic, a local Lancaster lad by all accounts, barged over for a simple score.
MacCallum had opened the scoring with a sixth minute penalty and then after twenty minutes play, he planted a penalty from a dangerous tackle into the Vale twenty two. Quick clean lineout ball made its way to Harvey, making the extra man in the backs, for him to race through to score under the posts. A few weeks ago, he would never have made it but on this occasion he showed such a turn of speed that I had to ask his beaming father on the touchline what tablets he'd been giving his boy. None he retorted, it's all down to early morning gym sessions and an enhanced effort at Tuesday and Thursday night training. It just shows that hard work can and does pay off. MacCallum converted and then added a penalty to give the Wolves a slender 13 - 12 half time lead.
The Wolves now waxed as Vale appeared to wane. Under increasing pressure they started conceding too many penalties and found themselves on a downward spiral. The Wolves were able to play the game in the parts of the field that suited them. A second try came from a catch and drive, finished off by Alex Donaldson and three more followed, all on the left wing, with centre James Coulthurst touching down for the third, Williams for the fourth and Karaka racing away for the fifth.
Being the Wolves, of course, they then failed to put a late penalty into touch and the final play got underway with Vale spreading the ball wide and as the Wilmslow defence stood off, Vale fly half Jack Turton got a consolation score. Conceding tries in time added on has become something of a Wilmslow habit which needs to be broken.
Coach Rick Jones was unsurprisingly full of the joys afterwards. He believed that Vale were close to turning the corner but had just been outplayed in the second half. Not everything, he said, had been done as worked on in training, the set piece for once wasn't just as dominant as it had been and even though this was a day when the off loads stuck, there was still an impatient tendency to deliver them in situations, which didn't produce much and when the ball carrying player would have done better to go to ground. There are times for offloading and times for patience and encouragingly many of the players themselves seem to now recognise this as they could be heard exhorting patience from their team mates, when that was the right thing to do. Above it all, Jones added, there's a good attitude developing in this squad. It bodes well.
Next week the Wolves are at home against Rochdale for the last 3.00pm kick off before winter time descends.
Photo: Adam Hewitt takes the lineout on the Vale line.
Match report by David Pike.
Tags: