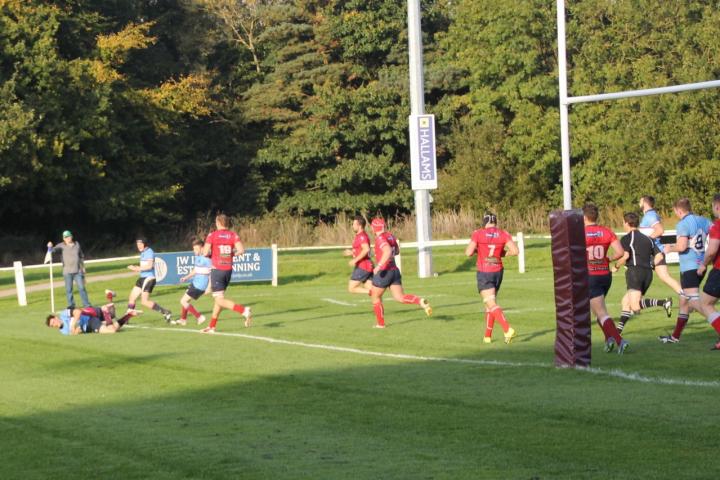 Saturday 15th. October 2016
BESTS Cup
Wilmslow Vikings 8 – 18 Chester
The Vikings stuck to their task gamely in this first round cup match and can take some satisfaction from reducing the margin of defeat against Chester from 45 – 12 in the league a fortnight ago to just ten points in this match.
It makes you think that it is not so much any inherent difference in the ability of the two sides' players that separates them but their different attitude towards the place of the game in their lives. There's no disputing that there is a wide gulf between the second strings of clubs playing at Level 3 and 4 in the RFU rankings, such as Chester, and those like Wilmslow playing at Level 6. Second team players at clubs like Chester aspire to play higher rugby, only a step away from professionalism, and are prepared to make sacrifices in their lifestyle to achieve that whilst at Wilmslow rugby is still first and foremost a recreational game. The big difference is the commitment to physical conditioning, skills improvement, desire and motivation.
There was never any danger that Chester were going to lose this match and one always felt that they had a reserve of gas in the tank to raise their game if they had to.
The Vikings started all hustle and bustle as they took the game to their opponents in the first ten minutes, coming close to scoring on two or three occasions but the visitors were always able to absorb the pressure without undue alarm. Slowly they got into their stride and in the second quarter scored a good try and a penalty. Conor McMurdock reduced the deficit to 8-3 at half time.
If play in the first period had been broadly equal in terms of possession and territory, it all changed in the second half as Chester clearly raised their game. The Vikings frequently conceded turnover ball at the breakdown, a sure sign of not lasting the pace, and Chester's second try wasn't long in coming. In truth, they should have had several more in this spell but the combination of their own profligacy and some heroic last gasp tackling in defence by the Vikings prevented them from closing out the game entirely.
With fifteen minutes left, the Vikings, helped by a series of penalties in their favour, got into the Chester twenty two and after several thrusts a good backs move was finished off by Toby Rowe. Briefly an upset was in their grasp but a second Chester penalty a few minutes later effectively killed off the game as the Vikings saw less and less of the ball and were pinned back into their own half for the few remaining minutes.
Match report by David Pike.
Tags: