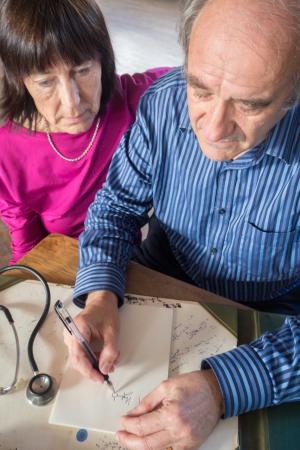 Wilmslow Guild Players' next production is 'Prescription for Murder', a thriller by Norman Robbins.
The play is set in the seemingly quiet town of Bere Knighton and centres on Dr. Richard Forth, a doctor with a hectic work schedule and a wife who is constantly ill but no one knows what is wrong with her. When Eric Dawson, a stranger, claims to have known Richard's second fiancée - a woman Richard claims does not exist - Barbara's health worsens and she isn't the only one. It seems somebody is out to kill Barbara, and anyone else who gets in their way.
The play is being directed by experienced director Grace Reed. "I chose this play because I like plays that show the development of the characters and keep you interested," said Grace. "This play has a surprise ending. The first time I read it I could not work out 'who dunnit'. Usually I can guess an ending but this has lots of red herrings! The characters are all quite believable - just the people you would meet in a sleepy English village: the local doctor, his second wife, the woman who comes in to help with the cleaning, the helpful neighbours who think they are more friends than patients."
The play is being presented 'in-the-round'. "I wanted to give it a more intimate feel," said Grace. "This frees up the actors as they do not have to worry about not facing the audience and can behave in a more natural way. It also puts the audience in the middle of the action."
Playwright Norman Robbins is perhaps better known for the many pantomimes he wrote through his life. Back in 2010 the Guild Players presented the amateur premiere of 'The Dragon of Wantley'. "Mr Robbins was due to attend the last night of our production," said publicity officer Bill Beton. "But that was the year we had a very heavy fall of snow just before Christmas and Norman and his wife were stranded in Devon. We were hugely disappointed not to get to meet him because we have performed many of this plays and pantos."
The Guild Players will be presenting an 'open rehearsal' as part of the Wilmslow Art trail on Sunday 16th October from 2pm until 5pm at Wilmslow Guild. "We will not be revealing the ending on that day!" said Grace. "You will also be able to view our costume wardrobe that is open for hiring costumes by the public for parties or plays."
'Prescription for Murder' runs from 26th to 29th October at Wilmslow Guild on Bourne Street. Tickets cost £7.50 and can be booked online at www.wgp.org.uk (there are no booking fees for booking online). Alternatively tickets can be booked by calling 01625 520126 or emailing tickets@wgp.org.uk.
Photo: Jane Hyde and Charlie Cook in rehearsal.
Guest post by Bill Beton.
Tags: