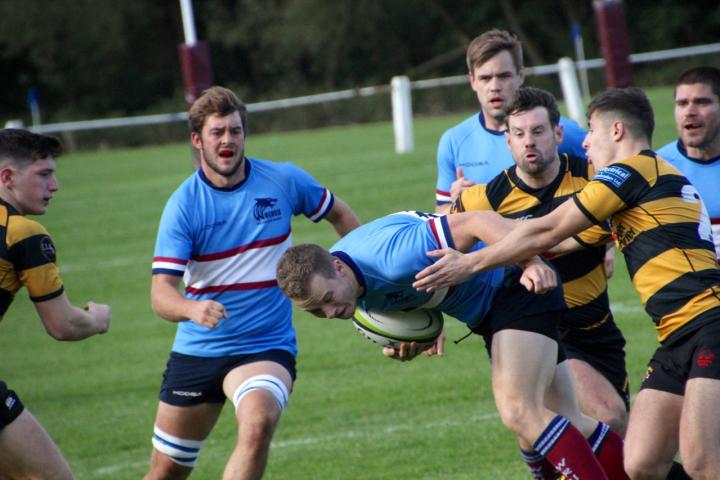 Saturday 8th. October 2016
North 1 West
Wilmslow 24 – 3 Leigh
The Wolves eventually secured their first bonus point win of the season with a second half display against Leigh, which was arguably their best forty minutes of the season. It's taken a time coming but was no less welcome for all that. It followed an uninspiring first half during which they made only fleeting appearances in the Leigh twenty two, the last of which on the cusp of half time produced the opening score. If the visitors felt at half time that they had been hard done by, then few present would have disagreed.
Wolves coach Rick Jones had by both force of circumstances and design run changes in his side. Max Harvey was brought in from the wing into the No. 7 spot and immediately had the crowd gasping at the force of his kamikaze tackling, which earned him the man of the match award. The try scoring machine Harry Patch was on the right wing and the Wilmslow cricketer, Ethan Harding, was given a start at No. 12. He didn't disappoint and when his cricketing team mate, Toby Rowe, was brought on as a second half substitute at No. 13, it did look as though Jones had by intent or otherwise stumbled upon a midfield partnership with the potential to develop, providing it can avoid injury and put in the effort on the training paddock.
Ben Day, given the nod at fullback, could equally have been awarded the man of the match accolade. He was crucially involved in three of the four Wolves' tries and produced a performance which fluctuated from the brilliant and sublime to exasperating and frustrating. He has always had an eye for a gap and still retains the ability with ball in hand to shrug off tackles, make ground and to be this team's most dangerous attacking player going forward. His positional play is faultless and under the high ball, he's rock solid but when it comes to clearing his lines by kicking out of defence, you just don't know what you're going to get. He knows what he wants to do but too often his kicks end up becoming meat and drink to the back three receiving opposition players. He's not the only one, of course, whose kicking out of defence can be alarming.
It was largely this failing, coupled with handling errors and a one sided penalty count against the Wolves, that allowed Leigh to spend at least thirty of the forty minutes of the first half in Wilmslow territory. Ms. Elliott, Shepherd and Griffiths in the Leigh backs received a steady supply of ball to run back with into Wilmslow territory and if it hadn't been for Leigh's kicker Ryan Elliott failing to find the range on at least two occasions and a dropped pass when a try beckoned, the Wolves would have found themselves in trouble.
As it was, the Wolves defence held out and then got in to Leigh territory as half time approached. Leigh cleared their lines to halfway, Harry Patch took a quick throw and Day powered through the middle, scattering defenders aside like skittles in a bowling alley, and when the ball was recycled to the right, there were men over for scrum half Nick Barker to get the opening score. There was still time for Elliott to have another penalty pot at goal but that too went adrift and against the run of play the Wolves found themselves 7-0 to the good at half time.
Whatever was said at half time, it had the desired effect. A Bob MacCallum penalty to the corner after ten minutes of the second period, set up a spell of Wilmslow dominance from which their second try came, when the pack shoved Leigh off their own put in at a rate of knots for prop Ayrey to get the touch down.
Elliott responded by finally slotting an attempt at goal but the force was now with the home side. After several phases of play in the Leigh twenty two, Day joined the line to make the decisive intrusion and his offload left Patch, in off his wing, with an easy run in to show that in this regard, he'd lost none of his scoring propensity in the intervening period. At 19-3, the game looked out of sight for the visitors. The Wolves were soon attacking again, their front row was mercilessly bossing the scrums, No. 8 Alex Taylor was held up, flanker Tom Bull was ruled to have touched down from a forward pass and then a simple backs move put Day, who else, in for the bonus point try.
Jones was smiling at last afterwards, recognising a good second half. It remains to be seen though how much of a start it will be to an enduring improvement.
Next week, they have a Cheshire Vase match at home against a hitherto unbeaten Northwich side lying third in N1W. That will be a good test.
Photo: Harry Patch in the thick of it but Tom Williams, Tom Bull and Ben Day are all close by.
Match report by David Pike.
Tags: