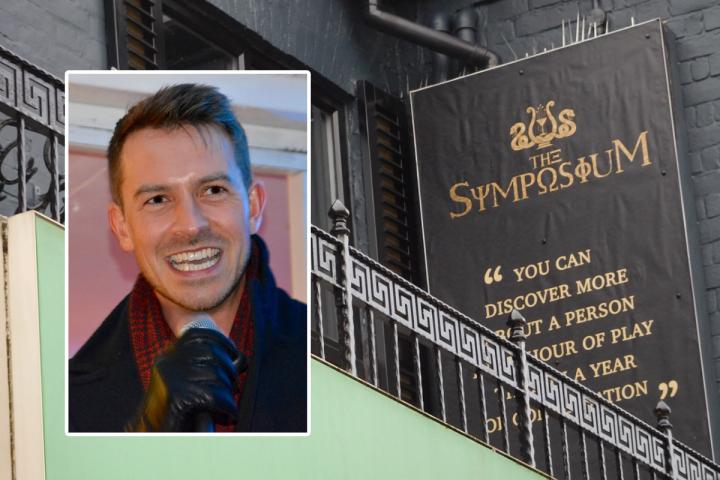 Hollyoaks star Ashley Taylor Dawson is opening a new late night, live music and cocktail bar in the heart of Wilmslow.
Final preparations are underway at The Symposium on Grove Street, which will be located in the premises formally occupied by The Stolen Lamb, ahead of next week's opening.
The new venue is a partnership between the British actor and singer, who is best known for his role as Darren Osborne in the Channel 4 soap, and chef George Yiannis of The Stolen Lamb.
Ashley told wilmslow.co.uk "I was originally looking at another project in Manchester but I am still working full-time on Hollyoaks so it would have been difficult, then this project came along.
"I moved back to Wilmslow two years ago and have fallen in love with Wilmslow all over again. It is a wonderful place to live, I feel very lucky and I want to bring a destination venue to Wilmslow."
Symposium, meaning a convivial meeting, usually following a dinner, for drinking and intellectual conversation, will be open from 5pm until late on from Wednesday to Sunday.
Keeping the Ancient Greek theme, George will be creating small plates of food for the 'ambrosia' menu, meaning food of Gods, including herb crusted crab claws, sesame seared halloumi, lobster arancini and Stolen Lamb. All of which can be washed down with a selection of 'elixirs'.
Ashley said "This will give everyone the chance to pick up a few small plates if they are peckish. There will be no rush, people can relax and enjoy themselves."
Live music will be at the heart of the venue.
Ashley explained "My vision for the place is all about live music, about performance and getting some incredible musicians down so when you walk in the venue there will be an incredible buzz.
"We are trying to bring a stage to Wilmslow, with lots of great talent coming to Wilmslow and performing in our bar."
Wednesday nights will be jazz and blues music, whilst Ashley's sister Catherine Taylor Dawson will be joined by Danny McCabe on Thursdays. Whilst Fridays will kick off with piano and Prosecco after work followed by a DJ and full bands will take to the stage on Saturdays, followed by a DJ.
The venue has been completely transformed, with Ashley having designed the interior.
He explained "We have knocked down two walls and done everything ourselves. It was a lot to take on as I have never done anything like this before. It has been a lot of hard work but also a lot of fun and very exciting. I think Wilmslow has some fantastic restaurants and is crying out for a venue where you can dance the night away."
The Symposium will open to the public on Thursday, 13th October, when Catherine Taylor Dawson and Danny McCabe will be performing, followed by events for local businesses, customers of The Stolen Lamb and people from the industry on Friday 14th and Saturday 15th October.