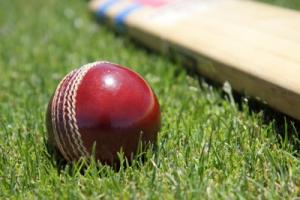 Wilmslow CC 213 for 9 beat Alderley Park CC 102 ao
Wilmslow travelled to the picturesque Alderley Park, with mixed feelings. Firstly to celebrate being champions and enjoy their day, but secondly to commiserate with Alderley Park who after a tough old season have not only been relegated but it would appear, are folding too.
Alderley Park in their various guises have provided worthy and friendly opposition, for as long as any Wilmslow member can remember. Surrounded by a wall, and deep within Alderley Park the old ground was an absolute picture and in those days home to the 'Icicals' for obvious reasons. The new ground is not 5 years old but looked fantastic on one of the nicest days of a season, which on the whole weatherwise, has been wet and miserable.
The Squirrels 'Barmy Army' turned up in force, as the champagne was put on ice and the President turned up as promised in a Sinclair C5. Which for anyone born after 1985, was a posh pedal driven 'go kart' with an electric motor. Even though the body work was designed by Lotus of the Elan, Elise, Evora variety, this vehicle was undoubtedly the biggest British innovation disaster of all time. Amongst its many issues, the most unfortunate was, that you sat eye to eye with the exhaust pipe of most other vehicles. Eighties cars weren't too concerned about emissions, so it must have been a rather unpleasant experience. 30 years later, with cycle lanes and the opportunity to whizz around a cricket field at 15mph it provided a very pleasant distraction from a sad day.
Sad because, there are now two clubs who have folded within Cheshire this season, and a couple more have dropped teams. What was left of Alderley Park battled hard, but faced the leagues top run getter in Rob Herriott, who hit his second ton of his prolific season. Finishing on 102, he was ably assisted by Sykes, Conniff and Fulker who all hit 20's in a total of 213. In reply, skipper Patel was in party mood, there were some unfamiliar wicket takers as Park got to 102 all out. Adam Dixon 4 for 16 will start next season on a hat trick.... if he ever bowls again.
So there ends another season, the Squirrels are in relatively good shape. The 1st XI are promoted, the 2nd XI finished mid table and the 3rds completed another season in the County League, with a number of youngsters a year wiser.
Match report by Mike Harding.
Tags: