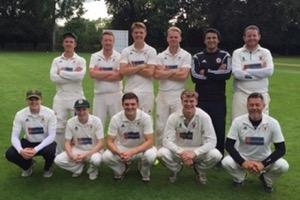 Wilmslow CC 93 for 2 beat Wirral CC 92 all out.
This win secured promotion, and when it was learned that Bunbury had drawn with Appleton, the Squirrels were crowned Cheshire League Div 3 Champions too.
That is three promotions in 5 years and reverses somewhat the ignominy of those 3 relegations in the 5 years previously. Many of the players, although still in their early 20's, have lived through all this and to their credit have stuck with it.
Wirral it must be said enjoy their trips to this part of East Cheshire, the Rectory Field and the Revolution Bar in particular. Comfortably mid table they won the toss and decided to bat, their intent obvious, score quickly and enjoy it. Wilmslow skipper Patel saw the signs, summoned his spinners and let the visitors take their chances with some catchers in the deep. There were a couple of sixes but Elliot Rowe with 4 for 12 and Lloyd Sykes 3 for 11 were always in control.
After a speedy tea, Wirral were anxious to get going, it was Wilmslow's turn. Rob Herriott (who with one game to go, will very likely top the league runs chart this season) showed the visitors how it was done. His 47 along with Adam Dixons 23 saw the Squirrels home, and Wirral down the road to the pub.
Next week the champs visit relegated Alderley Park, but are already looking forward to next season. Plans to improve the ground, recruit some junior team managers are already underway. If you have an interest in cricket, as a player, administrator or coach get in touch via the Wilmslow CC facebook page or ring Mike on 07969291412.
Match report by Mike Harding.
Tags: