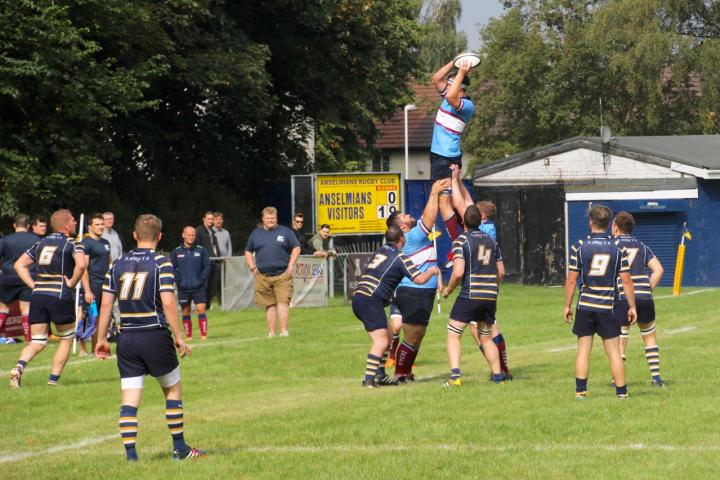 Saturday 27th. August 2016
Cheshire Vase – Round 1
Anselmians 12 – 72 Wilmslow
Anselmians are known in the picturesque village of Eastham where they have their ground as The Saints. In the event, they could have used some divine intervention from their patron, St. Anselm, when they came up against the Wolves in this first round Cheshire Vase match. For some seasons now, the August Bank Holiday Saturday has signalled the opening of the new rugby season and guarantees that sides will be short of a cluster of first choice players, either still on absent on holiday or away with their families in the Lleyn Peninsula or such like for the weekend.
Wilmslow though seemed to have benefited from giving as many players as possible game time in their three pre-season jousts with Sandbach, Bowdon and Macclesfield and were clearly more advanced in their preparations than the home side.
Anselmians obliged by starting the season with a kick which went out on the full to give the Wolves a scrum on halfway from which No. 8 Alex Taylor broke away. The ball zipped along the blind side to Max Harvey on the wing who found himself clear. You would have put money on Harvey scoring but you would have lost the lot as he was surprisingly caught from behind but still off loaded in the tackle to wing forward James Burgess for the first try. Bob MacCallum converted, less than a minute had been played and it was 7-0 to the Wolves.
Five minutes later, prop Jordan Ayrey as he did all afternoon turned the ball over at the breakdown and the Wolves countered by putting debutant centre James Coulthurst in for his first try in Wolves colours. This was followed by Anselmians being penalised on the floor and MacCallum punting a penalty into catch and drive territory, from which the pack duly drove over. Less than ten minutes had been played, three tries scored and it was 19-0 for the Wolves..
The Anselmians now had a decent twenty minutes but after setting up at least half a dozen promising positions, they consistently found themselves held up by a tenacious Wolves defence. They really should have made more of the opportunities they had during this period but squint throws at the lineout, slow ball, penalties conceded at the breakdown and critical dropped passes all contributed to them being driven backwards.
Indeed, Wilmslow's fourth try on thirty five minutes had its origins in yet another Anselmians attack breaking down and the loose ball being hacked up field. Ayrey was deemed to be held up but from the ensuing set piece and maul, Robert Taylor spun off the side and waltzed over unmolested. There was just time for the Wolves to profit on the counter from a hurried kick out of defence by the Anselmians which was taken by Harvey and then quickly moved to Coulthurst who ran away for his second try. The consensus from the touchline was that we'll be seeing plenty more of him this season.
The second half became something of a procession as seven more tries were added by Alex Taylor, substitute Jonny Ridley, a new arrival from Alnwick now at Manchester University, Robert Taylor again from close in on the narrow side, another from newcomer Hugh Ellis, formerly of Southport, MacCallum, Ayrey and finally left winger Sam Beckett, graduating from Wilmslow's colts.
Anselmians managed a brace of deserved consolation tries from their left winger.
Coach Rick Jones can be satisfied with the side's showing, dominant in every phase for at least sixty of the eighty minutes as they scored twelve tries. He'll know, however, that it's still work in progress and that it'll be a very different cup of tea next week when the league season gets underway with an awkward looking home fixture against Eccles, who it shouldn't be forgotten gave the Wolves a really hard time when they last met in December.
Photo: Matthew Shufflebottom makes a clean catch in the lineout.
Match report by David Pike.
Tags: