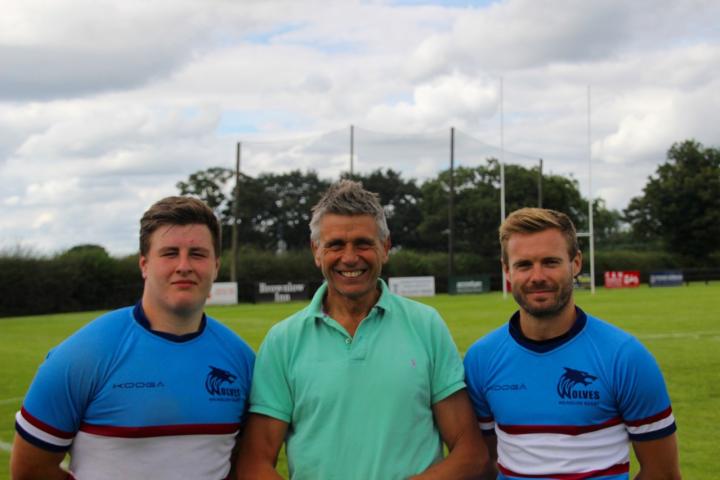 Players at Wilmslow are now hard at work on the training field as they prepare for their first competitive game of the season on 27th. August in the 1st. round of the Cheshire vase away at Anselmians.
The following week their North 1 West campaign kicks in at the Memorial Ground with a 3.00pm start against Eccles. In the meantime the first warm up took place on Saturday at Sandbach and will be followed this Friday evening against Bowdon and the following Tuesday against a Macclesfield selection.
Bob MacCallum takes over from Mike Black as captain and will be assisted by new vice captain Robert Taylor.
The evergreen fly half MacCallum became a Wolves player whilst still a teenager back in 2002. In the intervening period he has become the club's talisman and leading points scorer in 291 appearances. He has 40 tries, 434 conversions, 362 penalties and 5 drop goals to his credit. That makes 2169 points in total.
Taylor now starts his third season with the Wolves. The former Wilmslow High School and Northumbria University front row has grown into the anchor of the scrum at tight head. Nobody ever shifts him.
MacCallum and coach Rick Jones have most of last season's players still available to them but Ed Stobart will be absent until the new year and Lawrence James, Simon Irving and Andy Walker have all had to hang up their boots. Fortunately, they're all now restored from serious leg injuries but have taken advice to call it a day. Mike Clifford meanwhile will still be available from time to time. So the process of renewal is constantly under way and the end of a rugby career for one player merely opens the door for someone else to step forward. As always there are new faces at training but it's still not too late to join in and to stake a claim for selection to any of the three senior sides.
Off the pitch, Wilmslow offers the best possible support to its players. The new physio centre is always busy and the club has now invested in a defibrillator. Refurbishment of the grounds and buildings are on going and in a few weeks the viewing terrace in front of the clubhouse will have been extended.
Wilmslow Rugby Club remains totally amateur, albeit at the serious end of amateurism. The 2nd.team, known as the Vikings will be playing this season at the highest level available to it in the Cotton Traders Premier League. The Hawks, 3rd. team, will be in 3 South of the Raging Bull North West Intermediate Leagues. And on Sundays, there's mini rugby from U7s to U12s, junior rugby from U13s to U16s, and colts rugby from under 17s to U19s.
As always, there will be a strong community feel to the club. Anyone is welcome to watch a game, ground entrance charges including parking and a match programme are low, groups of ten upwards, including accompanied children, can make an afternoon of it by booking a pre match table for lunch and at the same time enjoy a pint of one or other of the club's well kept and selected real ales. It promises to be a busy season.
Photo: (l-r) Vice Captain Robert Taylor, WRUFC President Nigel Day and new Wolves Captain Bob MacCallum after their preseason warm up game.
Guest post by David Pike.
Tags: