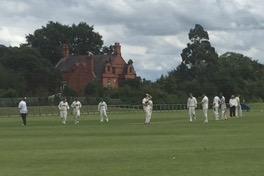 Wilmslow CC 151 for 5 beat Chester CO 147 ao
The Squirrels made the long trip to Chester, intent on avenging their only defeat this season, and did so in a fairly comfortable manner. This win, maintains Wilmslow's seven point lead at the top of the division over Bunbury, but more importantly extends their lead over potential rivals for a top two promotion spot.
At last a dry day with every chance of a full days play. Chester with recent good results, chose to bat and started well. A first wicket stand of 45 was broken immediately with the first bowling change. Elliot Rowe introduced his spinners, struck first and went onto take 4. The star performer however, was 'jags' Narayanan, whose 6 for 51 came, having bowled a superb spell of 15 overs.
It was a competitive score, but surely not enough for the league leaders and champions elect? Wilmslow got there, largely due once again to Rowe and Jags, who both hit 40's albeit in different ways. If you want to score quickly, select the right balls as per Jags, and if you know it's just 2 runs an over required, just dig in and occupy the crease as per Rowe.
Honourable mention to Ross Kinnerley, who despite being under the weather finished the game with a quickfire 17. Next week Wilmslow travel to Aston, who whilst mid table always provide a challenge, especially at home.
The 2nds faired less well vs Urmston, whose spinners played havoc at the Rectory. Wilmslow collapsed from 50 for 2 to 58 ao. Wilmslow did fight back and it took Urmston nearly 30 overs to win, but they did it with 8 wickets to spare. Oli Warner was the pick for Wilmslow with both bat and ball.
On Sunday the 3rd XI welcomed Lindow and showed too much hospitality toward their local rivals. Two very poor run outs in the top order, put pressure on the youngsters in the middle order. Malik plundered 20, Joe Lindon 19 and Hamza all got in then got out at a bad time. A total of 98 was never enough, and Lindow made short work of it, winning by 8 wickets.
Match report by Mike Harding.
Tags: