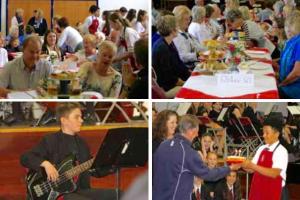 Over 100 residents living locally and in nearby care homes were invited to Wilmslow High School last week for their 4th annual community afternoon tea event and they were joined by parents of the students involved.
Leading up to the event the Year 10 catering and food technology students were busy making scones, victoria sponges and sandwiches, meanwhile the music students were practising various ensembles to show off their musical talents on the day.
Year 9 and 10 food technology students transformed the hall into a grand tea room, with covered tables, flowers and menus.
Miss P Speed said "The event itself is one of the highlights of the year for us as teachers. Although very time consuming in the planning, nothing beats hearing the wonderful feedback from our guests on the day."
One guest commented, "It was great for the local residents to be invited into the school and be looked after so well by the next generation of Wilmslow" "Fabulous food and music, thank you for all of the wonderful service too, all the students are so polite and pleasant- a credit to the school."
Miss Speed added "A big 'thank you' to the talented music and food technology students involved, my colleagues in food technology and music and to the site staff who were all a fabulous support for the day.
"A final thank you goes to our guests who generously donated just over £250 which will go some way towards the cost of a new blast chiller for the food technology department. We are still a long way from affording this equipment but hopefully we can raise the funds in the future."
Tags: