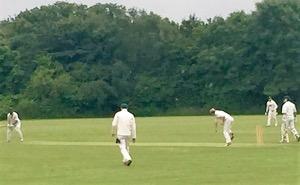 Wilmslow CC 93 for 3 beat Stretton CC 92ao
Generally speaking the weather is having too much of a negative influence on the cricket season thus far. Happily, the Squirrels who top the table, seem to have been less affected than most.
Whilst second placed Bunbury and many others didn't, Wilmslow got a game and a big decisive 25 points at third placed Stretton. This gives them 25 points on Bunbury and 74 points on third place. It also gives the team some momentum as they go to first division Romiley on Thursday in the semi-final of the leagues 20:20 cup. Weather permitting of course.
It was, inevitably, raining on route and for the first hour at the Pavilion Ground. Judging runs required on sodden outfields is not easy, but skipper Jay Patel invited the home team to bat, with a figure around 120 being acceptable. With Ross Kinnerley getting more bounce and carry than he should on such a wet pitch, omens looked good at 57 for 7. A couple of late order stands however, as the outfield dried out, saw Stretton finish on 92. Kinnerley had 6 for 52, Patel had read the conditions superbly.
Chasing small totals can be tough if cheap wickets fall early, and the doubts step in. The approach is vital, Jags Narayanan and Rob Herriott chose attack and put on 33 for the first wicket, before the latter was bowled for 10. Whilst Jags (45) continued to plunder boundaries, Toby Rowe (9) ran quick singles, and Adam Dixon (12no) more boundaries to reach the required 93 in 19 overs.
The seconds were on the receiving end of a similar game at the Rectory. Asked to bat, they made 96 Adrian Rowe top scoring with 27. In reply, Trinity took 25 overs to win by 7 wkts. Ahmad Hosainy 3 for 34 the only successful bowler.
Sunday was glorious, and the youthful 3rd XI with a sprinkling of oldies made a fight of it against Wistaston. The visitors won the toss and batted, they finished on 195 ao. Himal Chandra had 3 for 38 and Dom Rowe 2 for 26, skipper Harding caught 2 steeplers in the deep.
In response, Les Hart and young Rowe hit 20's but the pick was Waqar Malik with a memorable 52. Whilst they were 40 runs short, the Squirrels just need to work on taking catches and reducing the number of 4 balls.
Match report by Mike Harding.
Tags: