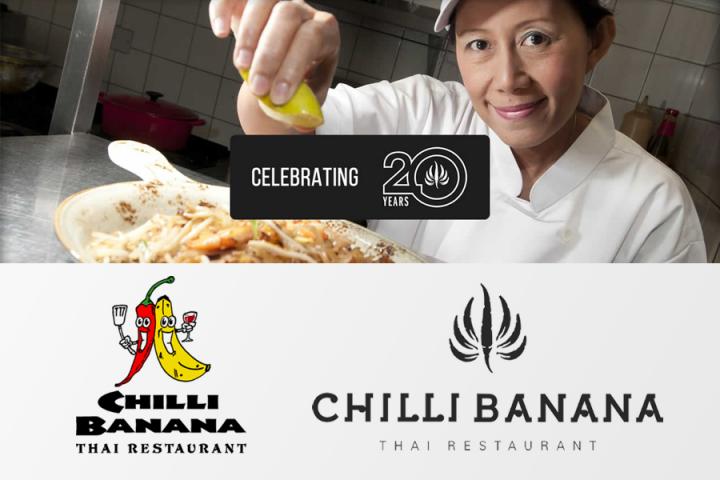 Promotional Feature
One of Cheshire's most successful family-owned restaurants is ushering in a new look as part of a 20th anniversary celebration next month.
Since 1996 Chilli Banana in Wilmslow has featured a cartoon logo of a chilli and a banana – two staple elements of Thai cooking.
But after two decades the grinning ingredients are giving way to a new logo that reflects Chilli Banana's position as an award-winning destination restaurant. "We'll be sorry to let the characters go," says joint owner Steve Wakefield. "They've become associated with our brand for a long time, and many of our customers will miss them, but it's time for a change."
Chilli Banana – soon to open its fifth site - began when a pavement 'A' board announced "Thai food sold here" outside the Royal Oak pub in Alderley Edge. It was the start of a partnership that created a brand and became an instant hit among a rapidly growing band of loyal customers.
In the kitchen was May Wakefield who grew up in the Thai province of Prachinburi, east of Bangkok. Waiting on tables was her husband Steve who had fallen in love with Thai food and culture of during far eastern travels as a Leeds university student.
Together their reputation for authentic dishes and traditional family recipes launched a popular brand that combined the use of imported Asian ingredients and fresh locally farmed produce. So popular that, three years ago, the restaurant moved into a stylish new two-storey town centre site on Water Lane, Wilmslow.
Today that restaurant serves more than 1,000 meals a week – four times the number from 20 years ago. And the business has expanded to employ more than 30 staff in Wilmslow alone – although there are now three other franchise restaurants as far away as Liverpool. The latest to open was a casual street food outlet in Bramhall. A fifth will open in Lapwing Lane, Didsbury, in September.
And Steve is pleased that present-day customers still include some of the original regulars from the early days.
"We now have a massive following of very loyal customers and a few of them have been eating with us for all of our 20 years," he says. "That alone gives us a great sense of satisfaction because we've always prided ourselves on catering for everyone – from couples, families, businesspeople and pensioners to well-known footballers and entertainers."
Two years ago Chilli Banana published its first lavishly illustrated 192-page cookbook and last year added an open-air terrace to the restaurant overlooking one of the main approach roads into Wilmslow.
Plans are now in hand for a charity fundraising 20th birthday banquet in September.
Tags: