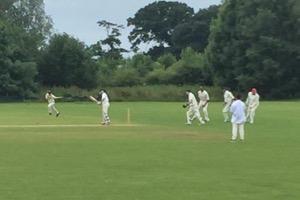 Wilmslow CC 129 for 9 beat Wirral CC 83ao
Another win for the Squirrels that opens up a 31 point lead on second placed Bunbury and 56 on third placed Stretton. Wirral had held that third spot, prior to this match.
The weather forecast was for rain, the previous day thunderstorms had hit most parts, so it was with some trepidation that Wilmslow made the long journey to the Wirral. The invitation to bat was to be expected given a wet pitch and battle commenced with the home side deploying a trio of slow medium pacers.
Conditions could not have been more perfect for this tactic, the pitch apparently left uncovered during last week's deluge had no pace or bounce, scoring runs was not easy. Last year in similar circumstances at Aston, Wilmslow were bowled out for 62.
This is a different vintage however, and like a fine wine, the Squirrels are maturing with age. This vintage knew in these conditions, anymore than 3 runs an over would prove a stiff target. No one got past 20, but 4 players plus extras got 15 or more. It wasn't pretty, boundaries were rare, it took the full 45 overs but 128 was competitive and so it proved.
The opening quicks Kinnerley and Ward removed the openers, but were quickly removed themselves as skipper Fulker turned to his spinners. Elliott Rowe 5 for 12 and Lloyd Sykes 2 for 23 were perfect for these conditions and it was all over pretty quickly. Wirral, third in the division were bowled out for 83, and Wilmslow extended their lead over them by 50 points in top spot.
The seconds were an agonising 10 runs short, of overcoming league leaders Haslington. There were 3 wickets apiece for Teskey, Ahmad and Jake Woodhouse as Haslington were bowled out for 144. The win looked on, young Oli Warner top scoring with 28 but with only Imran Ashraf (28) able to support, it was not to be.
On a wet soggy Sunday the 3rd XI went to Sandbach. Bowling first they restricted the home team to 140. Under 15's Maguire and Hamza being the pick of the bowlers. In reply, Hallam and Waqir both hit 40's, but that was it and Wilmslow finished 120 all out.
Match report by Mike Harding.
Tags: