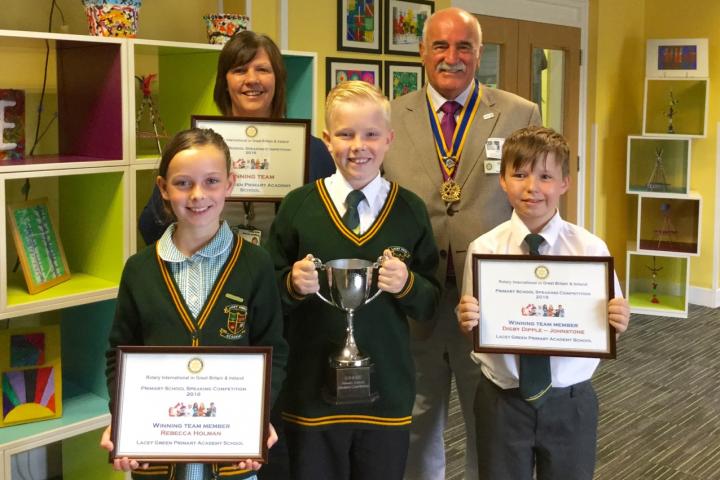 The team of speakers from Lacey Green Primary Academy triumphed in the final of the recent Primary Youth Speaks competition organised by the local Rotary Clubs of Wilmslow, Macclesfield and Stockport.
The team opened their speech with an introduction by Digby, a Year 6 pupil. The baton was then passed to Rebecca, another Year 6 pupil, who spoke for five minutes on the question chosen by the team, 'Should 16 year olds in Britain have the right to vote in the EU Referendum?'.
Headteacher Mrs Dooley said "After her speech, delivered with barely a glance at her notes, Rebecca gave a thoughtful answer to the question posed by the judges. It's clear that there is a budding politician in our midst! Finally, Jack from Year 5, closed the Lacey Green entry with his amusing and engaging Vote of Thanks.
"The team, who had been extremely nervous all day were relieved to go second and then be able to sit back and listen to the remaining and highly impressive entries from the other seven schools, all of whom had won their regional competition.
"A nail-biting wait followed before the winner was revealed to gasps from the Lacey Green contingent."
As the team posed for photographs, Rebecca said, "I was so surprised to win! I just can't believe it!"
The cup is taking pride of place in the Lacey Green Primary Academy reception.
Photo, Rebecca, Jack, Digby. Back - Mrs Snowball (Year 6 Teacher) Kevin Kelly (Wilmslow Rotary Chairman).