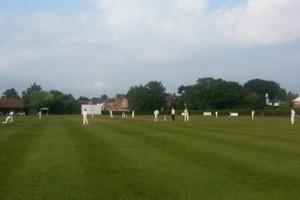 Lindow 1st XI, led by Jake Martin, travelled to Middlewich on an overcast day looking to continue their push for promotion.
Lindow won the toss and elected to bowl first on what was clearly a bowler's wicket. Lindow bowled extremely tightly to begin with restricting middlewich to less than 60 after 25 overs. Some improvements by the batsmen took middlewich to 153 which seemed to be a promising score, special mentions go to Luke Unsworth with an impressive 15 overs 1 wicket for 18 runs, and Rowan Day playing his first game for the first team this season picking up 3 late wickets.
The Lindow innings started of well being 49 for 1 after 20, but a continuation of wickets on a difficult pitch eventually saw Lindow bowled out for 101, giving Middlewich their first win of the season. Lindow host top of the table Widnes next week in a huge game as they look to get back to winning ways.
Tags: