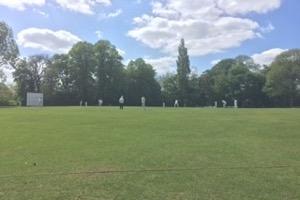 Wilmslow CC 200 for 9 drew with Wilmslow Wayfarers CC 103 for 7
Well so much for that! As local derbies go, it was a non event. Wayfarers said it all in their pre match post, this week they were visiting old friends? The umpires indeed, in their post match report, declared the game was played in an excellent spirit and there was no sledging whatsoever? There will be a number of ex players from both sides who will find this hard to fathom!
The Squirrels in hindsight perhaps, got too many runs. But after 10 overs Wayfarers all wickets intact, and struggling to score runs, simply and effectively chose not to.
There were some creditable performances, and a result would have been possible if a number of catches had been taken by both sides.
Inserted to bat, Wilmslow opener Jags, dropped on zero scored 38, Rob Herriott again topped the list with 61. Late cameos from Sykes (23) and Fulker (22no) gave the home side the edge and a total of 200 for 7. Mushtaq and the ageless Bruce(4 for 62) were the pick of the visitors bowlers.
In reply, the Squirrels quickly quelled any aggressive intent by making a bowling change. Figures of 2 for 3 off 8 from Jags and 2 for 9 off 7 from Taylor, illustrate a number of things including lack of intent from the batters and a strength in depth in the bowling. Earlier Toby Ward and Ross Kinnerley had bowled 20 overs between them for less than 40 runs. This would have been a whole lot better if at least three good chances didn't go down.
For those in the know it would be interesting to hear the views of those ex players. As would be expected in local derbies, there have been some keen, if not overly keen contests over the years. Many years ago I recall a young talented Wilmslow all rounder leaving the field to go to A and E due to injury, only to return to take 5 wkts and score 50 runs. 'It was the best comeback since Lazurus' stated Peter Pluck the Wayfarers skipper and true gent, who reminded the Squirrels of this perceived injustice for many years. More recently in 2013 there was the stand of 126 for the 10th wicket providing an unlikely victory for the Squirrels, although Wayfarers had the last laugh, gaining a promotion.
Better news for Tim Conniff's 2nd XI, who got a maximum points win at Cheadle Hulme 3rds. Cheadle won the toss and possibly with Wilmslow's recent form in mind and a green wicket elected to field. Wilmslow set a target of 130 largely due to a 60 run partnership between. Waqar Malik and Ahmad Hosainy. This was a much needed win, Wilmslow have a number of young players, and they certainly shone in this game. Dom Rowe took an outstanding catch and James Davidson 3 for 7 was the pick of the bowling. Cheadle were all out 16 runs adrift.
Next week sees both teams in the 20:20 cup, and a trip for the top of the table 1st XI to 3rd placed Wirral.
Match report by Mike Harding.
Tags: