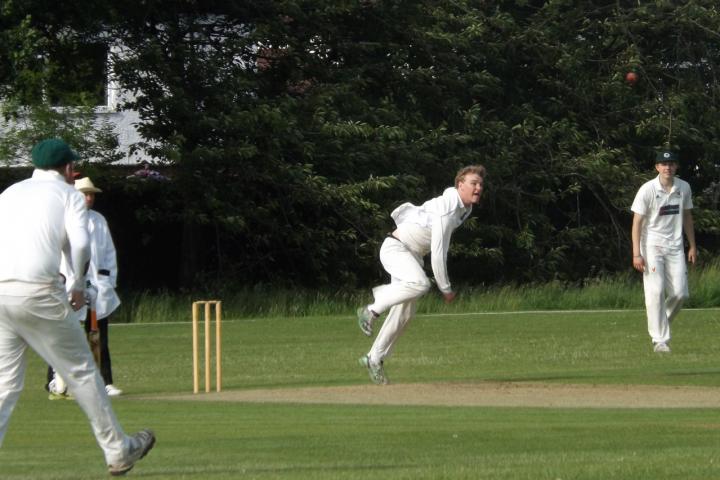 Wilmslow CC 108 for 2 Appleton CC 102 ao
With the persistent rain arriving as forecast, across Cheshire and around teatime there were only 4 games completed in the UKFAST Cheshire League. Abandoned games accrue 7 points, with this quickfire win Wilmslow secured the maximum 25 and consolidated their position at the top of the division.
Winning the toss Wilmslow elected to field at a picturesque if very green Appleton. It was slow going as the lush outfield took the pace out of any shots. Not that there was much to hit. Ross Kinnerley somehow, found some pace in the wicket whilst the metronomic Toby Ward dug a groove short of a length, on off stump. This is a good combination, and when you have last year's leading wicket taker Jags Narayananan as first change it's a formidable attack. On this day it was Ward with 3 wickets who took the prizes. Not surprisingly Appleton struggled to get any momentum or runs, the tail succumbing to the off spin of Lloyd Sykes 2 -11.
With the rain sodden clouds looming, and sporting a dodgy hamstring Rob Herriott was not running singles. His 82, he went caught with 10 runs required, was scored almost entirely in boundaries. The dangerous Gavaskar had removed the equally dangerous Jags for 0, but had no answer to Herriott who pulled, drove and improvised at will. It took Appleton 43 overs to get to 102, Wilmslow and Herriott required just 15. Within 10 minutes of Adam Dixon securing this win with a six, the rain came. As most teams across Cheshire retreated to club houses match abandoned, Wilmslow were being applauded off the pitch by a very sporting Appleton. The Squirrels now hold a 32 point lead at the top of the league, something fourth placed Wilmslow Wayfarers will want to close at next week's local derby.
The seconds game was predictably a washout, the 3rds went down to a strong Haslington on the Sunday. For the latter there were good performances from Waqir Malik with the bat and Connor McGuire was the pick of the bowling.
Match report Mike Harding.
Tags: