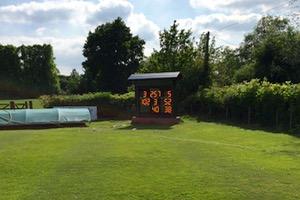 The Lindow 1st XI hosted table toppers Brooklands on Saturday in a first vs third clash. Due to large amounts of rain during the week, captain Ben Tyler won the toss and elected to bowl in what looked like good bowling conditions.
Opening bowler Scott Howarth made immediate inroads into the Brooklands batting line up taking 3 early wickets. He was well assisted by fellow opening bowler Luke Unsworth who bowled with great accuracy claiming 3 for 31 off 13 overs. Alex Bosshardt and Ben Tyler each chipped in with 2 wickets to have Brookslands bowled out for 110 off 41.1 overs.
The chase started poorly for Lindow with regular wickets falling. The innings became a one man show with junior opening batsman Ryan O'Brien batting with great composure. After a nervous chase, the target was reached 8 wickets down with O Brien finishing on 72 not out in a knock that showed an enormous amount of maturity and heart. The win lifts the team up to 2nd and the side will look to continue their momentum over the coming weeks.
Lindow 2nd XI travelled to Weaverham on Saturday more in hope more than expectation. With a number of injuries and absences to regular players, the team knew that one of the top 4 batsmen would have to bat for a long time. Winning the toss, Lindow decided to bat and control the game from the outset. Whilst the scoreboard was ticking over nicely, wickets kept falling at regular intervals. Had it not been for the (almost) immovable object of James Bracewell, batting for the majority of the innings and ending on 84, and Khalid Ahmed smashing 30 in quick time the score would have got nowhere near the competitive 213 that the innings ended on. Bracewell's concentration and stoic defence was excellently combined with some lusty blows, hitting some big 6s over mid-wicket.
Knowing that early wickets were key, Lindow were eager to get rid of the Weaverham opening batsmen. Both openers, whilst offering chances that Lindow couldn't capitalise on, played positively and registered their respective 50s. With Weaverham on 142 for the loss of no wicket, it is fair to say Lindow heads were down and a loss seemed inevitable. However, the introduction of debutant Simon Watson changed the course of the game. Watson bowled his left arm spin beautifully and produced some really nice balls taking 6 wickets for 24 runs in 11 overs. Watson's contribution had Weaverham in total freefall, and his final wicket meant they were bowled out for 185, leaving Lindow celebrating a brilliant win from an unlikely position!
On Sunday Lindow 3rd XI welcomed Wilsmlow to Upcast Lane in the SK9 local derby with 25 league points at stake. On a glorious day Lindow won the toss and elected to bat, but the game was in the balance at 53-2 with both openers gone. The game started to swing Lindow's way as Adam Bull and club junior Callum Sherrington on senior debut, building a partnership of 84 before Sherrington was brilliantly run out by Waqar Malik for 38. The innings closed on 257-3 with Bull recording an unbeaten century (102*) and Lindow captain Scott Gaylard hitting a quick-fire 52 not out.
The Wilmslow innings got off to a flying start as Keith Hallam and Lloyd Sykes took the visitors to 50 without loss, before Hallam was caught by Sherrington off the bowling of Jamie Hiam for 13. From this point wickets continued to steadily fall leaving Sykes, who ended on 62, stranded at the other end. The Wilmslow batsmen were struggling to deal with the spin of Ben Davies (1-31) and the excellent seam bowling of Jack Holland, who finished with career best figures of 7-25. Wilmslow were eventually bowled out for 143 as Lindow took the points in a very well spirited local derby.
Match report by Rowan Day.
Tags: