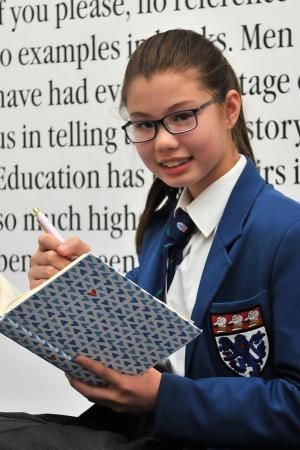 Young Wilmslow wordsmith Millie Brierley will have her thought provoking short story published in an anthology of the country's best young writers after coming in the top 30 from tens of thousands of entries nationwide in the 'National Short Story Week' competition.
King's Girls' Division pupil Millie Brierley, 11, has won a runners-up award in the Year 7 category in the annual literary event.
This year's competition theme was 'Lies' with Millie penning a piece between 900 and 1000 words with twists, turns and a dramatic denouement to leave the reader in a state of high suspense.
Millie's story centred on a young girl who comes across a wishing tree in a forest with a special rhyming message: "One wish only, understand? There are rules, so listen good. No one killed or back from the dead. Once you wish, that wish cannot be unsaid."
She chooses to change her identity, only to find she has been transformed into an attention-seeking, spoilt brat who lies constantly embarrass her parents.
Millie, who is also an accomplished artist as well as being a talented young writer, said: "The secret is to use a lot of descriptive words and add as much detail as possible."
King's Girls Division Librarian Olivia Walwyn, who helped organise the event, said: "Millie's story was highly imaginative and posed perplexing moral questions, but it was also full of lively details and was buoyed along by a sustained narrative pace."
The year's anthology from National Short Story Week will be published in November, with royalties from the sales going to Teenage Cancer Trust.
Tags: