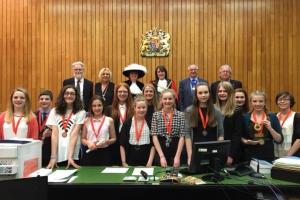 A team of students from Wilmslow High School triumphed in the regional heat of the Magistrates' Mock Trial competition which is a national competition for students in Years 8 and 9.
Around 400 teams nationally act out trials, and their performances are judged by real magistrates.
The standard was very high, but having won the regional heat Wilmslow High will now compete in the National Final on June 18th, at the stunning Royal Courts of Justice in London.
This will be the 4th year Wilmslow High has won the local and regional heats to go through to the National Final. It also follows shortly the Bar Mock Trial competition, for student in Years 10 to 13,, in which Wilmslow High School came second out of 209 teams at the Old Bailey.
Joseph Vale in Year 8, said "Our barristers, Mia Connor, Lauren Philips, Caitlin Ebbern and Kate Rishworth, persuaded the witnesses from other schools to admit that they had doubts about what they saw and heard, and the other side must be right.
"Our witnesses, Caitlin Medcalf (distressed victim of harassment), Amelia Budd (a friend of the victim), Lilia Dandache (the Defendant, a student at university) and Jessica Walters (a friend of the defendant), were wise to all the tricks, and dodged the barristers' attempts to trick them into saying the opposite of what they meant.
"Our Magistrates, Clara Edler and Ailsa Harris, painstakingly analysed and evaluated the evidence, coming up with clear and logical arguments on both sides. Our legal advisor, Jessica Walters, was complemented on her clear and impartial advice to the Magistrates. Our usher, Charlie Wood, organised the witnesses and made sure everything ran smoothly. The High Sheriff (in her fine hat), the Lady Mayoress (in all her regalia) and a circuit judge handed out the prizes."
The winning students each received a medal, a scroll, a book token and a massive boost of confidence.
Tags: