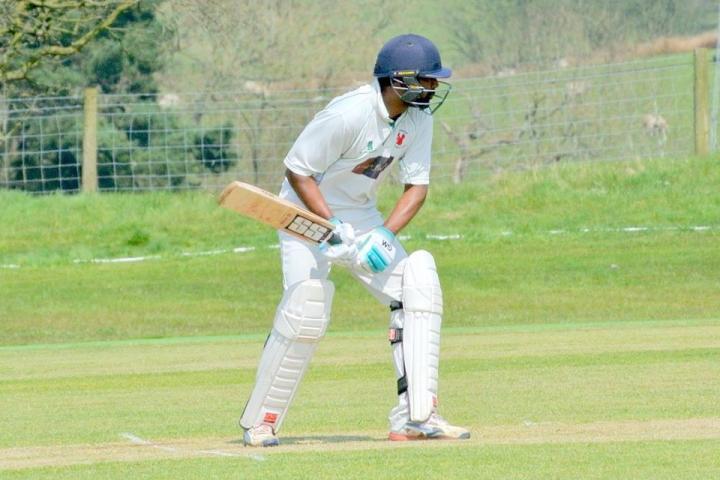 Wilmslow CC 161 for 6 lost to Chester CC 162 for 3
It was top versus bottom, but you wouldn't have known it. Chester arrived at the Rectory without a batting point so far this season, but went away with the maximum.
Having won the toss, Wilmslow batted and the early season confidence was evident. Rob Herriott continuing his good form in an opening stand of 60 with Toby Rowe. Whilst Chester bowled and fielded well, the Rectory is compact and full of runs so a total of 161 was 30 runs short of being competitive. The Squirrels left a number of quick singles out there, and other than Taylor and Dixon couldn't find the boundaries.
In response skipper Steve Fulker mixed it up, using in all 6 bowlers, it was always going to be hard on a good pitch, and so it proved. Chester themselves had a good start with 70 on the board before Elliot Rowe had Birchall magnificently caught by Ahmad in the deep. To Wilmslow's credit, it took Chester to the final over to achieve a deserved victory.
With the 2nd team picking up 25 points at Prestbury, albeit by default, it was the thirds who provided the highlights of the weekend. They travelled to Wistaston with 13 players, skipper Harding delaying selection until the pitch had been inspected. A couple of Dads got given scoring duties, and Wilmslow batted first. It was a weekend for good opening stands, Sykes (28) and Hallam (37) putting on 66. There then followed a bit of a collapse, as the panic took hold, Harding ran out the promising D Rowe and things looked bad. There then followed a number of man of the match performances.
Malik with 19no steadied the ship. But it was the 16 runs of 14yrs old Hamza which really caught the eye. Those runs were priceless and Wilmslow finished on 145 ao.
In reply Wistatston were mesmerized by the mercurial Imran 3 for 20 and then completely baffled by the leg spin of young Hamza 3 for 39. Credit must also be given to the other youngsters D Luke 1 for 27 and D Rowe 1 for 18 who both bowled fine spells. As the final pair threatened, skipper Harding made up in part, for his apparent misdemeanour, by bowling the dangerous Sergeant for 30.
Next week the firsts feature again, at the Rectory welcoming Aston.
Match report by Mike Harding.
Tags: