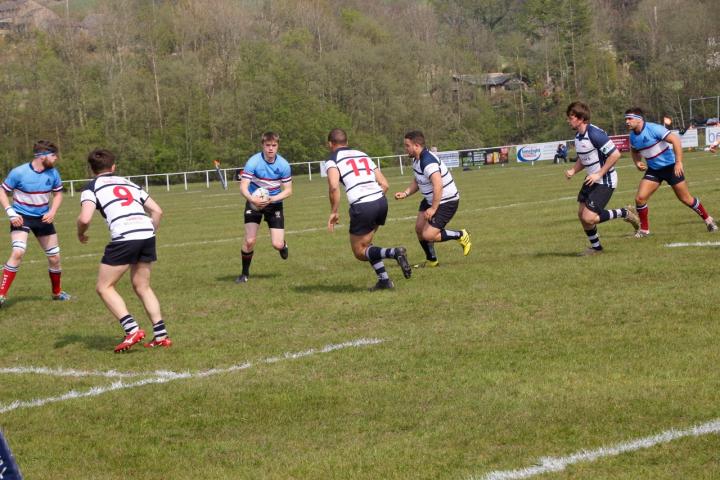 Saturday 7th. May 2016
Lighting & Building Services Jug Final
Preston Grasshoppers 3rd. XV 22 – 17 Wilmslow Vikings
The Vikings had already passed a milestone in reaching this Lighting & Building Services sponsored final. They fell short though in their quest to have the engravers add Wilmslow's name to the list of past winners on the silverware. In whatever sport and at any level the players and team have to be both individually and collectively at the top of their game to win in the one off atmosphere of a cup final. The occasional dropped or wayward pass and turnovers that you can often get away with in a run of the mill league game tend to be costly in the final stage of a knockout cup competition.
The Vikings have shown this season that they possess a number of extremely promising and talented young players who can all produce moments of inspired play but they have yet to show that they have the honed skills, the nous and composure to hold their game together at a high level under pressure for the full duration. The skills have to be practiced again and again on the training ground whilst the mental game comes with experience, judgement in taking the right options and a positive error free can do, will do mind set.
With a strong north easterly behind them and some fine kicks from No. 10 Elliot Rowe, they created several good first half scoring opportunities. Left winger Tom Raynor left everyone standing when he found himself with a bit of space to manoeuvre in after just three minutes, racing deep from his own half for an opening try. Rowe then set up a fine position on the quarter hour from which prop Adam Taher eventually burrowed over for the touchdown. At 12-3 it looked good for the Vikings and they really should have had more but were let down by their decision making.
In contrast, the Preston side managed the game better. The wind was worth according to local sources fifteen points and as half time approached they would not have been unduly concerned by being nine points adrift. Another Rowe kick was then fielded by their full back and he initiated an attack from their own half down the left hand side for a well taken try. 12-8 at half time to the Vikings didn't look in the conditions anything like enough to hang on to.
The second half started with a surfeit of penalties for the Grasshoppers which enabled them to set up several scoring positions. Their big men in the pack now held plenty of aces and twice in the third quarter they rumbled over to go 22-12 ahead. The wind then seemed to drop in the final fifteen minutes. The Vikings responded with a spirited late rally, in which wing forward Jack Eddleston was conspicuous.
The Grasshoppers' defence remained solid though and only conceded a catch and drive try to Loui Staples in the final minute. In truth they had been home and dry for most of the final quarter.
So Wilmslow's season ended on a bit of an anti climax. Both the Wolves and the Vikings had found the last month difficult. The Vikings though, despite losing a ten point lead at the top of their league, eventually held on by four points to take the top spot. The Wolves faded to lose their last three games. To finish first and third in their respective league competitions, however, gives cause to believe the good work can be built on when next season gets going in September.
Photo: Elliott Rowe searches for an opening.
Match report by David Pike
Tags: