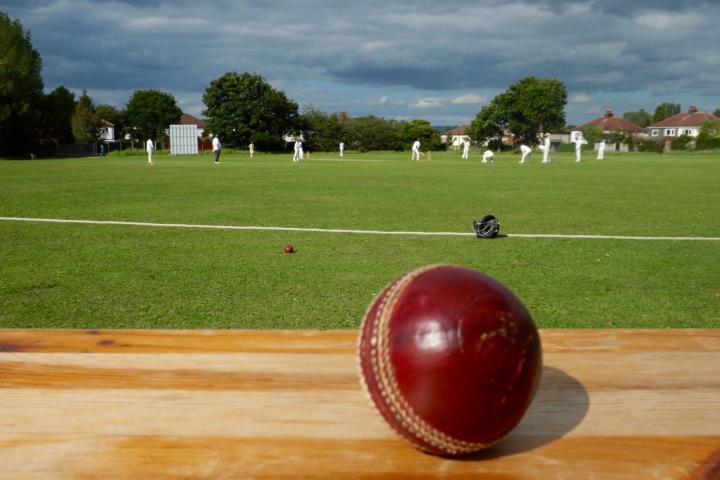 Wilmslow CC 129 for 7 beat Langley CC 60 ao
Three games in, Wilmslow have dealt effectively, with all challenges thus far. They sit atop of a division, having last week kept the ground fit, despite the weather, and for this trip to Langley a mass exodus of players to a rugby match and an electrical storm.
At Langley you are assured of a friendly welcome, the scenery is spectacular. At this height however, the ground and conditions (almost above the tree line) can have a big say in results. With this in mind the Club have spent a small fortune on improving the drainage and square. That work will take time to bed in.
Those conditions dictated perhaps, the visitors being invited to bat first. Herriot and 'Jags' Narayanan made a patient start finding the newly laid outfield very slow indeed. They put on 28 for the first wicket, the introduction of Betteridge changed that. There were 3 quick wickets, and 3 ducks in a row as Wilmslows bats struggled with the variable pace and bounce. Talking of Rowes, the Squirrels have 3, all regular first teamers and bizarrely unavailable playing Rugby?
Anyway, their replacements stole the show. Alex Taylor hit a crisp 22, and then Ahmad Hosainy 28 and Chris Teskey 20 put up an undefeated 51 for the eighth wicket. As noted in previous posts, setting gettable targets is the key to winning matches and 129 was a result total.
The Langley Aussie Gift, knew the score and went aerial. His quickfire 27 comprised of 3 sixes. Despite some murmurs, skipper Fulker stuck with the offended bowler Toby Ward and the tables were quickly turned. A magnificent catch on the boundary by Teskey accounted for Gift, three more catches followed and when Cartwright went LBW, Ward had 5 for 37. That is now 19 wickets in the last three games for Ward against Langley which is extraordinary.
At 60 for 9 however, the heavens opened and rain drops, the size of garden peas fell. Credit to the home club as everyone on the field ran. The heavens had opened and understandably the covers were placed closely, if not exactly on the wicket. Only in Langley do you get rain like that!
Thankfully only 5 overs were lost and Taylor took the final wicket with his fourth ball to complete a promising debut. Mentions are required for Jags 1 for 11 off 9 and to Lloyd Sykes who continues to impress with 2 for 10.
What with the Rowes back, maybe the next challenge for the Squirrels will be team selection, which can only be a good thing.
The seconds had to dig deep, due to call ups to the firsts and gave a number of debuts to the youngsters. As well as being well beaten, they were outsmarted by an experienced Timperley 3rds. Skipper Conniff saw enough positives to be optimistic about the future, but will welcome the return of more senior players next week.
The 3rd XI are at home to Nantwich Sunday 8th May 2pm.
As ever, if you are interested in cricket in any capacity, come down to the Rectory Field and introduce yourselves.
Match report by Mike Harding.
Tags: