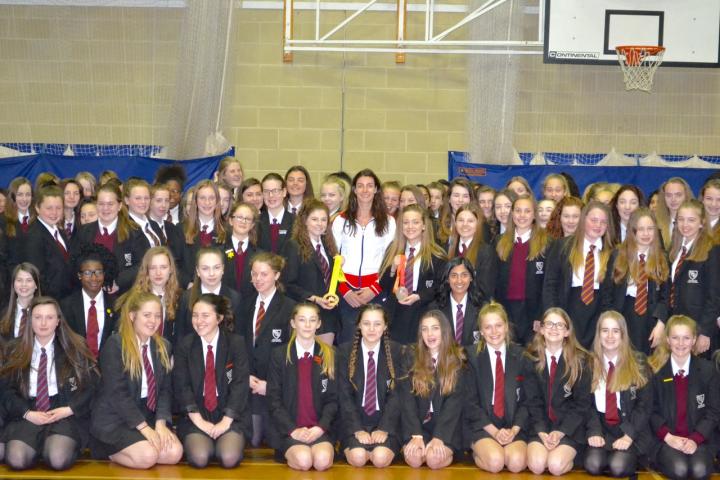 Ex Wilmslow High student Seren Bundy Davies took time out of her busy training schedule last week to speak with students and staff about training, nutrition and the many sacrifices that must be made on the road to Rio.
Seren is hoping to compete in the Rio Olympics in the 400m individual and relay events this summer having won bronze in the 400 metres and silver in the 4 × 400 metres relay at the 2015 European Athletics Indoor Championships. She also won a bronze medal in the 4 × 400 m relay at the 2015 World Championships in Athletics.
Fiona Ryan, PE Teacher "Seren was always an all–round sports performer, however it was an outstanding cross -country performance in Year 6 that sparked something in this unknown talent.
"Wilmlsow High offered Seren a continuous supply of sporting competitions both within PE lessons and through the 'Sports-Xtra' programme. Relishing these opportunities she played hockey, football and competed at the Macclesfield & District and Cheshire County Athletics events before breaking into English School's."
During her visit on Thursday, 21st April, Year 9 girls were treated to an inspiring and thought provoking assembly and PE students had the opportunity for an in-depth question and answer session during which they discussed types of training, recovery, supplements and sponsorship.
Fiona Ryan added "Speaking with ease and confidence, Seren answered questions, ranging from her diet to the dedication it takes to compete against the best in the world. We heard about Seren's perseverance after a fall on the final bend in a race in Sheffield and how it made her stronger and more determined to set a PB only a few weeks later.
"It was an extraordinary day, a real opportunity for the Wilmlsow High School community to embrace the journey of this talented athlete.
"Seren recognises that the road to Rio is not a straight one but is willing to work hard and deal with the bumps along the way and all of Wilmslow High School are supporting her in this process."
Tags: