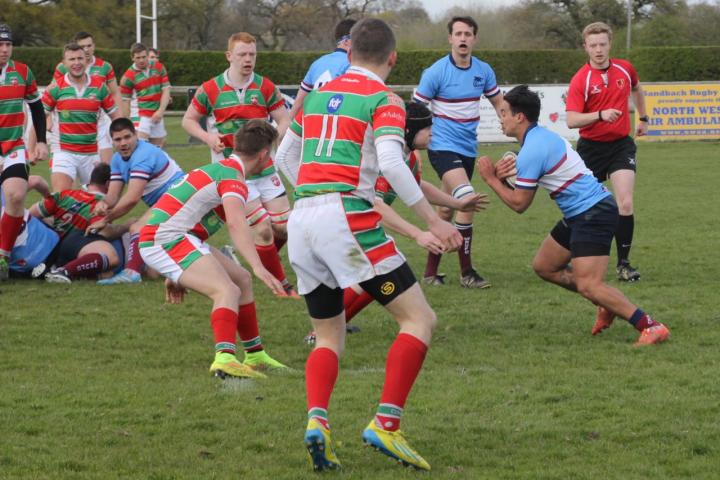 Saturday 23rd. April 2016
North 1 West
Warrington 24 – 17 Wilmslow
At the end it was a disappointing finish to a season, which had at one stage promised so much. April has been a difficult run in to the season, having to face the other four top sides in the league in succession. To have got a decent return from these matches, the Wolves really had to be at full strength but injuries particularly in the back division, which had been such a potent force earlier in the season, had taken its toll. In spite of it all, the players have retained their spirit, there has been no shortage of endeavour and even this game ended with the Wolves fiercely competing for an equalising score.
For this visit to Sandbach, summer sports taking precedence at Warrington's home ground until October, the Wolves were without a recognised scrum half from the outset. Sometime hooker and back row forward Josh Whitely stepped into the breach and judging by the huge grin on his face afterwards had thoroughly enjoyed the experience. He did surprisingly well but would certainly own up to the specialist No. 9 position not being his best place on a rugby team. Bob MacCallum was side lined with a painful shoulder injury from last weekend, his place at No. 10 going to Ollie Wilkinson.
Ed Stobart too was on the treatment bench and of the others Harry Patch and Richard Hughes were just back from injury and probably not fully match fit. Even without Mike Clifford, the pack looked at nearly full strength. Certainly the front five of Jordan Ayrey, Alex Donaldson, Robert Taylor, Adam Hewitt and Matthew Shufflebottom, returning the side from a concussion injury suffered several weeks ago, had the edge over the opponents. Alex Taylor, Mike Black and Tom Williams completed a competitive starting back row.
Nor did the side have a recognised goal kicker and ultimately, this proved to be the difference between the two teams on the scoreboard. Warrington scrum half Ben Hockenhull landed three conversions and a penalty from five goal attempts. Wilkinson was less successful, landing just one kick from four attempts.
To add to the Wolves difficulties, there was a huge penalty difference, both direct and indirect, in favour of Warrington. Normally you would expect the count to be broadly even between two decently matched sides but referee Lefeuvre was very quick and harsh at the breakdown and regularly found in favour of Warrington at the scrum. Whether the Wilmslow three were pushing too soon or their Warrington opponents conceding ground too easily was a mute point. The discrepancy in penalty awards was certainly a factor in the game.
Warrington came into this game on the back of three wins which had hauled them up to fourth place in the table. After a winter during which they'd suffered several heavy defeats, they were now restored to full strength and clearly fancied themselves to complete the double against what must have seemed to them a fading Wilmslow side. Centre Kieran Hughes took full advantage of a flimsy defence from a short penalty to set up fly half Tom Wood after just three minutes. Both Hughes and his centre partner Max Walker soon had to depart injured being replaced by Luke Johnstone and the veteran Kevin Jones, just as the Wolves were settling down to their fair share of possession and field position.
There were powerful runs from Harry Patch, showing just what had been missing in recent weeks. Warrington's defence was stretched to keep him out and then after twenty minutes, Alex Taylor was held up. From the scrum, he slipped the ball to Whitely who burrowed over to reduce the deficit. Warrington were up to regain the ball at the restart and had ten minutes of pressure before knocking on. Wilkinson cleared from his own line but as half time approached, the Wolves were penalised again for holding on in the tackle and Hockenhull extended Warrington's lead to 10-5 at the break.
Arguably, on the run of play the Wolves were a bit unfortunate to be behind. They started the second half with a solid scrum and a fine break by Mike Black and when Tom Williams took his chance at the breakdown, it was nothing less than they deserved.
The Wolves pack were now hard done by, midway in the second half. Their scrum was marching smartly upfield with the ball at No. 8 Alex Taylor's feet at the base of the scrum. Reminiscent of a beagle on the trail of a hare, the low slung Whitely was following closely behind, hands low in case the ball suddenly popped out. It didn't but inexplicably the referee blew for a knock on. It was a decision that was to have match losing consequences for the Wolves.
From the scrum now in their favour, Warrington's midfield made a scything break through the centre which eventually led to their second try. Wilmslow's defence was caught out and penalised on the floor but Hockenhull missed the penalty. The drop out had to be either high and hanging or long and deep. It was neither, going gift wrapped at a low trajectory to Warrington prop forward Jon Ward, who needed no further invitation as he stormed towards the Wilmslow line before off loading to substitute Johnstone, who put hooker Paul Thompson in. Wilmslow were soon the authors of their own demise again when they spilt a ball in midfield and from a scrum, followed by yet another free kick, Warrington manufactured their third try as Johnstone scampered through a wide open space.
The Wolves response was defiant and after another five minutes, Ben Day, who had been prominent throughout from full back, did what he does best, intruding the line and timing an inside pass perfectly to Harry Patch, who broke the defence for the third Wolves try. The final few minutes ebbed and flowed as the Wolves with just a glimmer of hope sought an equalising score which could easily have come.
So the season ended as it had started with a defeat at the hands of Warrington. Back in September an under cooked Wilmslow had faded badly in the final quarter but on this occasion the players had played with spirit and vigour to the very end and were unfortunate to end up with only a losing bonus point from the game.
Saturday 23rd. April 2016
NW Intermediate League Division 1
Warrington 2nds. 12 - 36 Wilmslow Vikings
Wilmslow's second team finally won the Standish Media sponsored League Division 1 by scoring six tries away from home. Throughout the season their pack has been a force to reckon with and at Warrington the three front rows, Jack Walmsley, Adam Taher and Chris Thomas all crossed the whitewash. Scrum half Sean Ferrari, Rick Muckle and Sam Coutts were the other scorers.
Coach Bryn Lewis was delighted with the side's performance. 'The squad has been strengthened by the arrival of several good new players coming to the club. Some of them have been playing for the Vikings one week and the Wolves the next', he said. 'Others have improved. There's been a really good spirit throughout. It's been good to see so many of the players coming into the side from both the club's own junior set up and from Wilmslow High School. For this game former colts James Lewis and Angus Ramsey came on as substitutes and both looked very promising.'
Three years ago, the Vikings were naïve and unprepared as they went into the Intermediate Premier League for the first time and came straight back down again. The intervening two seasons have been used well and this time, Lewis believes he has a stronger side at his disposal. They all know the challenge that will be facing them in September when they come up against the reserve sides of National 1 and 2 clubs such as Macclesfield, Fylde, Preston Grasshoppers, Sedgly Park and Sale.
Photo: Hone Karaka takes them all on.
Match reports by David Pike.
Tags: