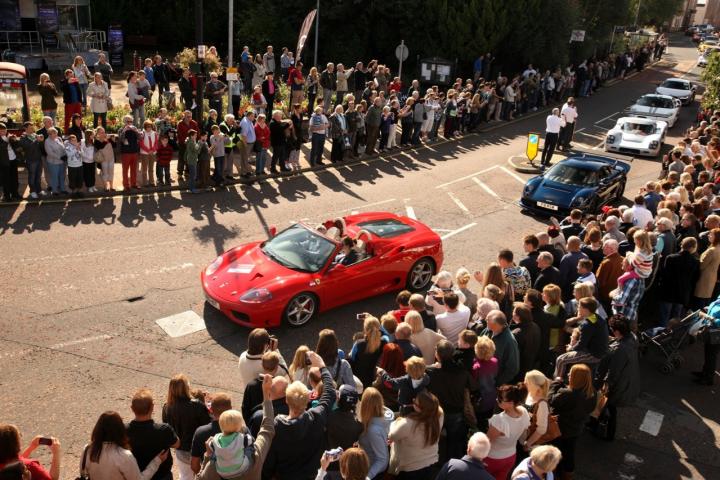 Wilmslow Town Council has agreed to provide a grant of £12,000 to the Wilmslow Business Group for the next two years which will go towards the salaries of their events team.
The business group sought a two year agreement to provide certainty of employment and the opportunity for planning further ahead, but it was agreed that the payment for 2017/18 would be made on the condition that the Town Council received a satisfactory report from the business group in March 2017 covering how the events went and staffing.
The events team was formed three years ago as a result of small local businesses struggling to cope with the heavy workload of organising the Wilmslow Motor Show on a voluntary basis whilst also running their own businesses.
In 2015 they organised the Wilmslow Food & Drink Festival, the Wilmslow Art Trail, the Wilmslow Motor Show and the inaugural Wilmslow Community Awards. The funding for 2015 was made up of £9000 from membership fees, £9000 from a Wilmslow Town Council grant and income from sponsorship and ticket sales.
The £12,000 will also cover the events team delivering the Christmas lights switch-on event but not the Wilmslow Community Awards, which will be considered separately. The £12,000 will be matched by Wilmslow Business Group and a further £12,000 will be secured through sponsorship of the events with the long term objective remaining for the events team to be self-funding.
Speaking at the Town Council meeting on Monday, 18th April, Catherine MacKenzie, Chairman of Wilmslow Business Group, said "As a partnership between Wilmslow Town Council and Wilmslow Business Group we've really achieved a great deal over the last few years with our match funding.
"As you know the ultimate aim is that the events team becomes self financing being funded through sponsorships and through the ticket prices of the events that we organise. So with that objective in mind it is clearly important I feel for the business group to support the events team and I really hope the Town Council continue to provide that partnership approach so we can make the events team move forward in the future."
Councillor Gary Barton said "I'd like to second this motion. I think that the events that the business group has been involved with have been a credit to Wilmslow and I think they are a very strong and natural partner for the Council to work with but I think we are at a situation where it needs nurturing. We need to provide the stimulus in order to help the committee establish itself and be a stronger partner for this Council and be a stronger force for good in Wilmslow so I think it would be an excellent decision to fund them."
Councillor Ian Ferguson is on the Finance Committee, where he voted against the grant application, and speaking at the town council meeting he raised concerns about the deficit from the inaugural Wilmslow Community Awards.
Councillor Fergusin said "In principle I agree £12,000 in this year. Part of my problem was that they specifically said that on the awards event that we should subcontract to them because they are obviously running it. When I asked how much they were in deficit on it my belief was that they were £13,000 in deficit and therefore when it was said we should subcontract it to them because of their experience and being so much in deficit I have a bit of a concern over that."
He added "For you to put in £12,000 that means that each of your members are putting in roughly £2.40 a week, if you include the salaries and National Insurance contributions and include all sorts of ins and outs and everything else and take off the £12,000 that you're looking for in sponsorship - bearing in mind you're a business group you're initially in it to make money and bring people into Wilmslow - you're only spending £5 per week per business."
Councillor Angela McPake responded "The Community Awards are a bit misleading. The business group don't see it's a great fit for them, they see it's a better fit for us but Catherine was very aware that maybe we don't have the same skills set as some of the business group do so in terms of what does and doesn't happen around the Community Awards that's an entirely separate thing to this."
She added "I get your point that the businesses could put a bit more in but the reality is that the majority of the business group are non-retailers in Wilmslow and the majority of the events drive footfall for retailers so I get what you're saying but Hoopers are a very small part of the business group. There are many more people in Wilmslow who are part of the business group who aren't in retail and therefore don't directly gain - so for me what the business group do through the events team is exactly what we should be doing as a Council - supporting business and driving footfall in Wilmslow."
Wilmslow Town Council voted unanimously in favour of granting the £24,000 over the next two years.
Councillor Keith Purdom said "It's a great opportunity to say how proud and pleased we are with our relationship with the business group. We think you do great things for the town. We know there are people being paid in some small way to do those things but we also know that many many of the hours comes through voluntary work for the town so thank you from us all."