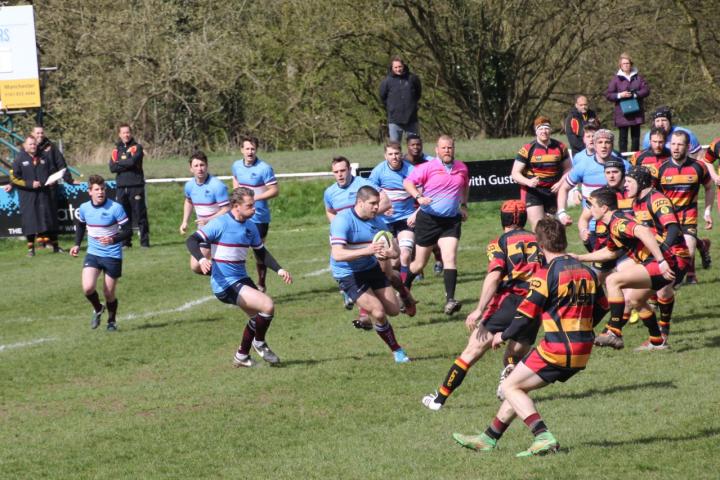 Saturday 16th. April 2016
North 1 West
Wilmslow 15 – 25 Kirkby Lonsdale
Despite this loss at the hands of league title chasing Kirkby Lonsdale, 2015/16 has still been Wilmslow's best showing at this level. Progress has been slow but steady. From being no more than just another mid table side in 2013/14, they moved up to finish fifth last season and have now taken another step forward to finish third in this league. The last two weeks, however, will have taught them, if they didn't know already, how much more they have to do to become genuine contenders to move up a level.
Coach Rick Jones said afterwards "At our best, and at times, we have been just as good as both the top two but we've never quite been able to retain that standard for a whole game and on occasions we've fallen some way short. For fifteen minutes against KL we looked a very good side and should have had more on the board than Bob MacCallum's single penalty but then we dropped off, our tackling lost its bite, we were slower to the breakdown and KL suddenly became the very good side we know they can be. By the time we got back into the game in the last quarter it had effectively been lost.
"We haven't been helped by injuries to key players. Ed Stobart has been playing on virtually one leg, turning out when many others wouldn't have done, and our other leading try scorer, the pugnacious Harry Patch has been sorely missed. Losing scrum half Andy Walker with a broken ankle in February was a massive loss. Walker had an edge to his play, which made him like a fourth back row forward, together with the ability to distract his opponents by getting up their noses."
The future nevertheless is bright. Young players such as Robert Taylor, Adam Taher, Adam Hewitt, Matthew Shufflebottom and others have all grown and have the potential to still move up a level. In recent weeks prop Jordan Ayrey has been excellent. It will entail nothing though but hard work to develop the fitness, conditioning and concentration that will enable the side to consistently play at a high intensity for the full eighty minutes. It's a long term project taking several seasons to get to that level.
Kendal and Kirkby Lonsdale have lost only one game each all season and have consistently been some away ahead of the rest. Kirkby's only loss was away at Altrincham Kersal on one of those days when a number of their players were caught up in the winter flooding and couldn't get away. The only other blemish on their record was a draw at Warrington. They started this game with a huge points difference of 386. They knew the Wolves had the potential to be a threat to their aspirations but in their current form the adrenalin was running high and once they got going, they showed an edge to their play which had the Wolves on the back foot for the middle 50 minutes of the game.
The early pressure came from Wilmslow. KL were forced into conceding penalties in the tackle and at the breakdown as the Wolves came at them with tempo. Two promising breaks by left winger Sam Cutts both came to nothing when the final pass was delayed. It all looked quite encouraging from a home supporter's point of view when MacCallum landed a three pointer on the quarter hour.
KL were quick to respond, turning over the ball in midfield. Their eighteen year old right winger Ralston threatened to run away from the Wolves defence every time he got the ball. Half backs Ben Walker and Dave Barton orchestrated attack after attack, the running off the ball into space by so many KL players soon had the Wolves stretched and it was all done accurately and at pace. Gaps just kept appearing as too many first up tackles were inconclusive.
"Their first score came from quick lineout possession, accurate passing along the line and then cutting back inside where Ben Walker took the final pass. Walker is a former Loughborough Colleges scrum half with all the past experience of playing at levels 3 and 4. They continued to dominate but it wasn't until close to half time that Walker again struck with a pass which put centre Tom Pickthall in for KL's second try.
Wilmslow had missed the opportunity to capitalise on a brisk following wind in the first half and then spent the next twenty five minutes battling to hold out waves of KL attacks. Eventually something had to give when KL's No. 6, South African Ngcumgama, scavenged a ball in the Wilmslow twenty two and burst away for their third score with half an hour still to go.
The Wolves then managed to raise their game as the final quarter loomed but paradoxically, just as their play began to cause problems for KL, they lost the ball in a tackle. KL countered down the right and then had plenty of men left over when play moved left to get their fourth bonus point try through centre Terry.
"At 3-22, the game was now theirs to win but the Wolves showing spirit and intensity which hitherto had been lacking got themselves back into the game. With five minutes still to go, they deservedly were awarded a penalty try. One of KL's Polish Argentinian Kwiczor brothers was Yellow Carded for his part in it and the Wolves, their dander now up, took full advantage two minutes later to force a catch and drive which ended with No. 8, Alex Taylor, touching down.
If there was now a bit of a wobble in KL's play, it didn't last for long. Hone Karaka slipped on the Wilmslow right, as he tried to escape following the restart, the ball was turned over, KL right wing Ralston was off again and when he was tackled, the Wolves offended and Terry, as cool as you like, restored a winning advantage with the last kick of the game.
In all likelihood, it sets up a dramatic winner take all finale to the season when Kendal and Kirkby Lonsdale meet on 30th April at the Mint Bridge ground. Wilmslow will finish their season next weekend when they meet Warrington, who unable to play at home because of the start of the cricket season have rearranged the game to be played at Sandbach's ground.
The Vikings, Wilmslow's second string, meanwhile won 22-8 away at Macclesfield and with three games still to play are two points clear in the NW Intermediate League Division 1. The chasing pack of Wirral, Preston Grasshoppers and Crewe & Nantwich are all still in the race with the enticing possibility that it could all come down to the clash on 30th. April between Preston GH and the Vikings. The same two will then meet a week later in their respective cup final at neutral Rossendale.
Photo: Ben Day runs at the Kirkby defence.
Match report by David Pike.
Tags: