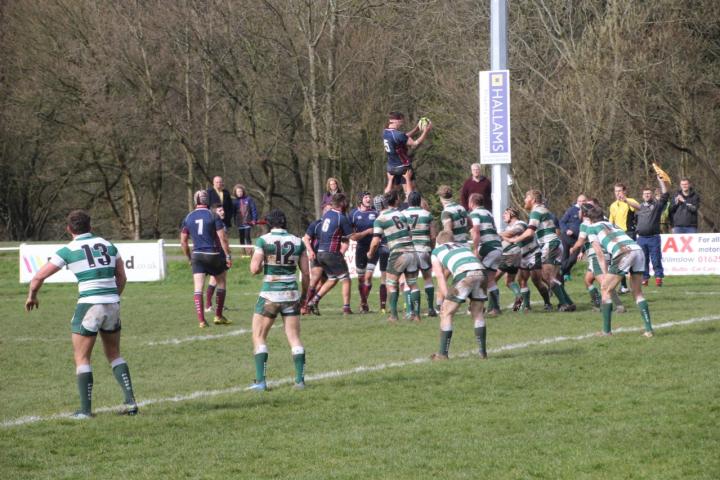 Saturday 2nd. April 2016
North 1 West
Wilmslow 28-23 Penrith
This meeting between the third and fourth placed teams in North 1 West was every bit as tight and evenly contested as the score line would suggest. When Wilmslow scored their fourth try fifteen minutes into the second half to go 28-13 clear, it looked as though they would enjoy a merry romp in the final quarter. Not a bit of it!
Penrith's riposte was immediate and enduring as they came back to cause the Wolves considerable discomfort, scoring a converted try and penalty to reduce the deficit to just five points with sufficient time left on the clock to get a winner. It must be added that their cause was aided in no small measure by Wilmslow losing both their centres to injury during this period and suffering a spate of Yellow Cards amongst their forwards in quick succession for technical offences on the floor.
Down to just thirteen players on the field during this critical period, they did well to hold out against a very decent Penrith side. The Cumbrians will think though that with Lady Luck dealing them such a winning hand, they should have made more of the opportunity presented to them than they did. You sensed though it wasn't going to be their day when with just five minutes remaining, the Penrith right winger John Fell at full throttle and nearly clear with space outside him was decisively laid low by a match saving tackle from Wilmslow's last line of defence, full back Ed Stobart. The ball went loose in contact and was booted up field away from the danger zone. There was still time for them to mount another foray but when the ball was knocked on, referee Matt Astle brought proceedings to a close.
Penrith had had a decent run since January, winning all their matches, except for the two against the front runners Kendal and Kirkby Lonsdale both by single score margins. They had clearly improved since last autumn and were a threat every time the ball was in their possession. They have plenty of pace and skill in their back line and their forwards, although lacking a bit of height and bulk, were no pushover. On this showing, they have the potential to be a major force in this league next season. They will reflect though that six of their nine defeats this season have been against the three sides ahead of them in the table.
For this one, they started like race horses and went ahead within two minutes. A gap in the Wilmslow midfield resembled the parting of the Red Sea and Penrith centre Mike Fearon was through it in a flash and released left winger James McNaughton for an unopposed run in. Fearon converted. The Wolves were forced to scramble for a few minutes longer but when Penrith conceded a penalty at the breakdown, the Wolves kicked for the corner and with the possession had Penrith defending in depth against a series of concerted forward drives.
Penrith were penalised for a series of technical offences and on sixteen minutes after a team warning, their lock Harlan Corrie was the one to get yellow carded. Tough on Corrie but these things tend to even out over the course of a game and in the second half, it was Wilmslow's turn to be meted the same arbitrary justice. MacCallum's penalty found the left hand corner at the car park end and from the lineout the Wolves pack used their numerical advantage to drive their opponents back for prop Jordan Ayrey to touch down. MacCallum had clearly brought his kicking boots with him and landed a fine touchline conversion.
The second try came ten minutes later when clean lineout ball went quickly along the line, Hone Karaka came in off his wing and after a half break set up Stobart, who shrugged off the defence for an excellent run in under the posts. It had been a good quarter of an hour for the Wolves but the visitors regathered and before half time two Fearon penalties had the score at 14-13 and they might have had more if they had used available space on the outside rather than cutting back inside.
For fifteen minutes or so in the third quarter, the Wolves were at their best and only desperate defence kept them at bay. The scores just had to come though, firstly from Louis Davis on the right wing. The Wolves had opted for a scrum, rather than a penalty kick from about five metres out and even though several forward drives were repulsed a quick recycled ball put Davis clear on the right. Penrith then lost an attacking lineout and from the ensuing set piece in midfield, Karaka broke the defence, off loaded to Stobart, who in turn off loaded to Davis, who had come in off his wing. When he was stopped quick recycling made its way to Ayrey, covering for Davis on the right wing. Ayrey fairly pinned his ears back and beat Penrith's left winger McNaughton on the outside. MacCallum converted both tries. McNaughton won't want to be reminded of how he was skinned by a prop forward!
The visitors were far from finished and six minutes later after a sustained period in Wilmslow territory, a quickly taken short penalty put second row Corrie in to make it 28-20. Wilmslow centre Harry Patch now had to leave the fray with a dislocated finger, Rick Hughes soon followed with a poorly hamstring. Moving the Kiwi Karaka into the thirteen spot was a pretty obvious move to make but it was a surprise when Louis Staples was put into No. 12. Staples looked exactly what he, is a big raw second row forward but as coach Rick Jones pointed out afterwards, he had the footballing nous to prevent Penrith's Fearon from beating him on the outside. Staples never laid any hand on the Penrith centre, who was forced to try the inside route where he was dealt with by Wilmslow's cover. Well done, Louis! I bet he'll be glad to be back in the pack next week.
As Penrith increased their tempo so Ms McMurdock, Clifford and Taylor were all Yellow Carded. McMurdock had only been on the field for a matter of seconds so it was a particularly harsh call on him. Down to thirteen players and under the cosh, it was remarkable that all they conceded was a third Fearon penalty. A word about the role of the coach during these comings and goings. Rick Jones must have been close to pulling his hair out on the touchline as no sooner had he plugged one hole in the dyke than another one appeared. In today's rugby, the coach's decision making on the touchline can decide the outcome of any game. No wonder, Jones was delighted afterwards with the way his side had dealt with adversity.
It was plain to everyone that Penrith had been one of the best sides at The Memorial Ground this season so to score four excellent tries when the force was with them and to then retain their composure and character when the tide turned was as much as could possibly be asked for.
The Wolves can't be caught now in third place but with neither Altrincham Kersal nor Eccles disturbing the onward progress of Kendal and Kirkby Lonsdale, a top two finish is realistically beyond them now. Next week they go to table topping Kendal and nothing would delight them more than putting one over them. To do that, they will have to find a way of neutralising Kendal's line out behemoth, appropriately named Murphy, and stop their catch and drive. If the Mint Bridge ground is firm, there's a bit of spring in the air and the force is with them, a lot of asks, then who knows............
Photo: Adam Hewitt takes the lineout for Wilmslow.
Match report by David Pike.
Tags: