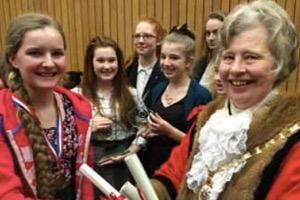 Students from Wilmslow High have won the local heat of the Magistrates' Mock Trial competition and now go through to the regional final on May, 14th.
The competition saw teams arguing for and against Miss Smith's innocence in Crewe Magistrates' Court on Saturday, 19th March, as part of a national competition for Year 8 and 9 students.
Around 400 teams from across the country take part by acting out trials and their performances are judged by real magistrates.
Year 8 student Joseph Vale said "Our barristers, Mia Connor, Lauren Philips, Caitlin Ebbern and Kate Rishworth, deftly steered the witnesses from other teams into admitting that black was white.
"Our witnesses, Caitlin Medcalf (taxi driver), Amelia Budd (who thought she saw it all in the dark from across the road), Lilia Dandache (the defendant, an inebriated passenger) and Jessica Walters (a cleaner at the Fire Station), all stuck to their guns, dodging the barristers' attempts to trick them into saying what they wanted them to say.
"Our Magistrates, Elise Coventry and Holly Ward, painstakingly analysed and evaluated the evidence, while our legal advisor, Clara Edler, gave clear and comprehensive advice on the law. Our usher, Charlie Wood, was commended for being so commanding and bossy."
The Lord Lieutenant of Cheshire David Briggs and the Mayor of Cheshire East, Councillor Hilda Gaddum presented the prizes. They all received a medal and a scroll, and Lauren Philips won the award for best overall performance.
Joseph added "We went home on the train, radiant with new-found confidence and heads held high."
Tags: