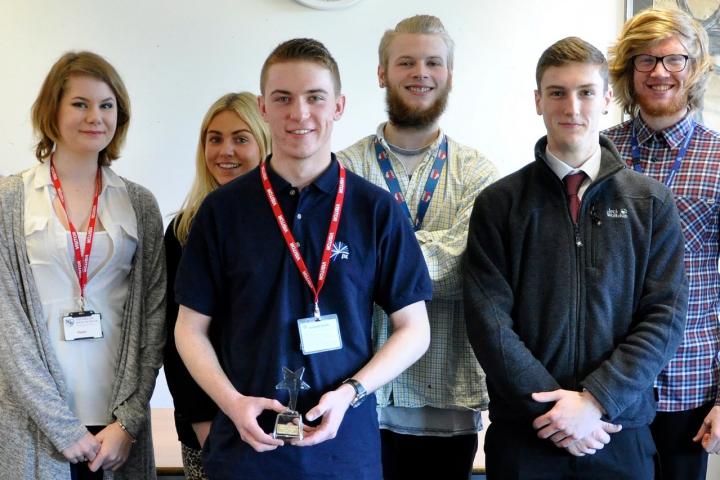 It has been a week for looking forward but also back for apprentice Process Operator Alex Ogden.
Having been named Process Manufacturing Apprentice of the Year by Trafford College, Alex took the award back to his old school, Wilmslow High, the very next day, to extol the values of in-work training to pupils.
Alex, 19, from Handforth is learning his trade at the Bramhall Fuel Terminal, which is operated and managed by the px Group, and is on schedule to complete his apprenticeship in 2017.
He said: "I wasn't expecting the award but I'm obviously pleased my hard work has been recognised. It is great to be able to come back to school to talk about apprenticeships and show that you don't have to go to university to be successful.
"In three years' time I'll be fully qualified, experienced and earning a good wage. I also think that getting into the routine of going to work each day is more suited to some people than campus life and it offers the opportunity to earn while you learn.
"Maybe people feel pressured into going on to university after sixth form but my advice would be, if you aren't completely sure that it is for you, don't do it. There are other opportunities out there and a good apprenticeship with a good college and company might well be the better option."
Alex visited Wilmslow High School on Wednesday, 16th March, when he was invited to address a group of Year 13 students who are keen to go down the apprenticeship route post-18. He spoke passionately about his experiences, giving current students valuable advice regarding the application process.
Mrs Helen Cook, Head of Post-16 Guidance at Wilmslow High School, commented: "We are extremely grateful to Alex for giving his time to help to ensure that this year's Year 13 students will also be successful in their chosen apprenticeship. We hope that he will return to talk to younger students about the advantages of apprenticeships and to share his experiences."
Alex's visit coincides with National Apprenticeship Week – coordinated by the National Apprenticeship Service - designed to celebrate apprenticeships and traineeships and the positive impact they have on individuals, businesses and the wider economy.
Ian Clifford, Chief Executive with the px Group, said: "The future of our business and indeed all businesses, lies with the younger generations coming through and that is why we place so much store by investing in training and apprenticeships.
"Alex is to be congratulated, not just for his award but for the progress he has made, his attitude to work and his willingness to show young people the kind of apprenticeship opportunities that are available, passing on his knowledge and experience to those about to take the next step in their career development."
Photo: Alex Ogden with his award and students from Wilmslow High School.
Tags: