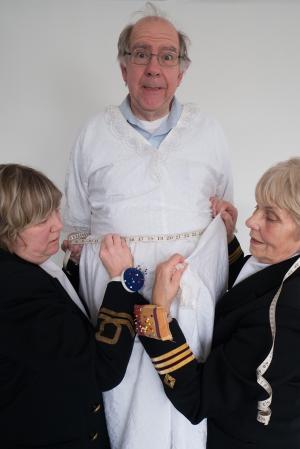 Wilmslow Guild Players' next production is "Bunkered", a brand new comedy by Lynn Brittney.
The play revolves around the crew of a secret naval bunker who are forgotten by the admiralty when the bunker is closed at the end of the cold war. They elect to maintain the facility, unbeknownst to the top brass. They do so for over twenty years, before having to bring in an outsider to fix some of the equipment. This inadvertently leads to a distress signal being sent to Navy HQ that the Russians are invading!
Bunkered is being directed by Guild Players member Jon Beagles, who explains why he chose this play. "We have a real depth of senior talent in the Guild Players who often become side-lined to younger actors, purely due to how older characters are often written as supporting cast members rather than the main protagonists. This particular play stood out to me as one that would showcase the comic timing of some of our best members, whilst being something that an audience could really 'get their teeth into' and have a great evening of comic theatre with.
"The set has to look like a realistic cold-war bunker," continued Jon, "but comfortable enough that you can envision four people having spent most of their lives down there!"
The cast is predominantly long-term members of the Guild Players, though Tim Strang will be debuting as the main marine Connor.
Jon said "This is proving a nice contrast to the more seasoned cast members that regulars at the Guild will recognise. Rehearsals are going brilliantly, and the play is still making me laugh even though I must have heard all the jokes over twenty times now! The cast are having some good fun with the characters, and we are looking forward to having something rather brilliant to show audiences in April."
Jon says his favourite character is the hippy Harry. "His anarchic spirit and determined positivity fly in the face of the rules and discipline most of the cast are used to - creating some brilliant comedic moments as a result! It's a brilliantly written play, with some great characters and a strong plot too. If you come and see it then expect to laugh...a lot! It's the sort of show that you'll be remembering moments from for weeks to come!"
Bunkered runs from 13th to 16th April at Wilmslow Guild on Bourne Street. Tickets cost £7.50 and can be booked online at www.wgp.org.uk (there are no booking fees for booking online). Alternatively tickets can be booked by calling 01625 520126 or emailing tickets@wgp.org.uk. Performances start at 7.45pm.
Photo: The cast of Bunkered. Left to right: Caroline Lucas, Owen Le Blanc, Ann Goodwin.
Tags: