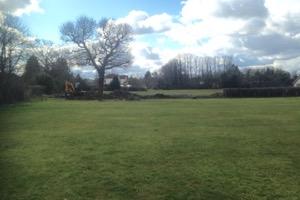 Having finished 2015 with an historic double promotion to the Cheshire County League, Lindow Cricket Club have started 2016 with the news that all funding has been secured to build a new artificial-turf nets facility at their Upcast Lane ground.
Sport England have provided the club with a grant of £42,000 towards the new facility with support funding also received from Cheshire East Council, Wilmslow Town Council and the England and Wales Cricket Board.
The nets will be three lanes and the Club have already laid an electrical cable underground to the nets area to allow easy use of bowling machines and video cameras to aid with player development.
Club Secretary Adam Bull, who led the Club's fundraising, was quick to point out the importance of local support in receiving the necessary grants, "The support of St John's Church and Wilmslow Sports Junior Football Club to allow us to use the land was fundamental to the project getting started. Then receiving over a dozen letters of support from other local stakeholders was vital for us to demonstrate that we are a club at the centre of our community. We are very thankful that all these people recognise the benefits the club brings to the local area and have supported us."
The club have grown participation numbers by almost 60% over the last three years and now run seven junior teams and three senior teams. A lot of this growth has resulted from the coaching the club have been doing in schools, which has seen the number of under 9s-14s playing at the club double since 2012. This growth will increase further in 2016 with the introduction of the Lindow girl's team and the hosting of the inaugural Lindow Cup, a cricket competition for the local primary schools hosted at the Club's ground.
David Kendrick, Club Chairman, commented "We are very proud of the work we already do with the local schools in the area and the new facility will allow us to provide even more and even better coaching to the children. Enjoying the training sessions in school with our club coaches, Ben Tyler and Jonny Barratt, makes it an easy transition for them to join the club, where they can then play all summer with friends. We can't wait for the season to begin!"
Tags: