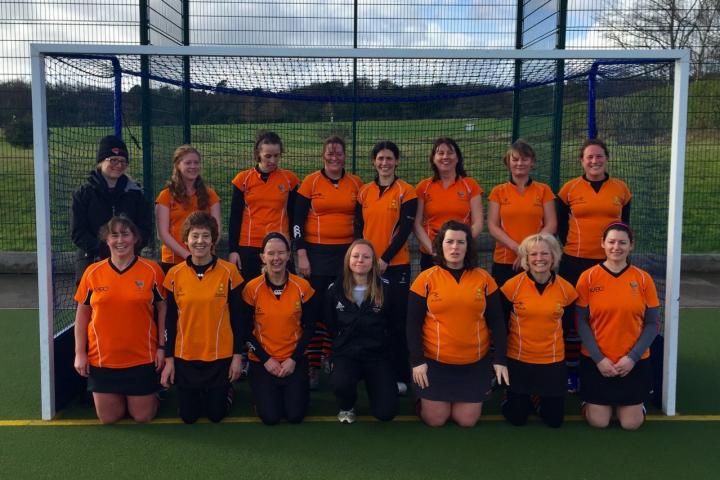 Wilmslow Hockey Club Ladies veterans took to the field on Sunday 7th February 2016 in Worksop in the latest round of their extraordinary cup run. After winning their first three rounds of the England Hockey Knock-Out Masters Over 35 Trophy, the Wilmslow Ladies took to the road to take on their stiffest test so far. The formidable Worksop Veterans lay in wait in Nottinghamshire on a cold, but sunny afternoon.
After an edgy first 15 minutes Wilmslow got the breakthrough. Tight defence and an aptitude for moving the ball from defence to attack rapidly kept Worksop on the back foot and the visitors went into half time with a two goal lead. Worksop came back strongly in a tense and hard fought second half. However, the girls weathered the storm and goals from Wilmslow's excellence at the set piece sealed the game.
Captain Avril Tucker put in a Player of the Match performance demonstrating powerful and assured defence and always keeping the pace of the game moving forward into attack. Goal scorers in the game included Jenny Nurmi, Sharon Holford and three from Penny Sparrow. A comprehensive five nil away victory sends Wilmslow soaring into the last eight of this national competition taking the standard forward for the local clubs.
England Hockey will make the draw on Monday and Wilmslow will wait eagerly to hear if they will play host to or visit clubs remaining in the competition from as far away as Jersey and Norwich.
On Saturday the ladies 1st team travelled to Prescott were they came away 3-0 winners against an experienced side.
Wilmslow ladies 3's took on Timperley 4's away at Timperley Sports club. The home side came out strong and Wilmslow's defence of Lockwood, Broome, Wood and Graham took time to sort themselves to put Wilmslow into the game.
The forward teamwork of Penny Sparrow and Megan Brickhill won the visitors a short corner that Sharon Holford slotted way to take the visitors 1-0 up, another short corner soon after saw Louise Broome score her first. Timperley came back strong and stand in keeper Hilary Markwick was unlucky not to get to a straight strike from the Timperley centre forward.
Wilmslow immediately rallied and went on to score another two before half time by forward and Man of the match Becki Eastwood. After the half time break great link up passing saw a text book goal scored by Megan Brickhill. Again Timperley rallied and came back to sneak another past the keeper but a superb solo run by Michelle Moss found the feet of a defender in the circle giving Wilmslow a short corner which Louise Broome calmly slotted into the bottom left corner.
Another spate of excellent passing play by the Wilmslow midfield saw Penny Sparrow score taking the final tally to 7 for Wilmslow and 2 to Timperley. A good day at the office for the ladies 3's.
Report by Louise Broome.
Tags: