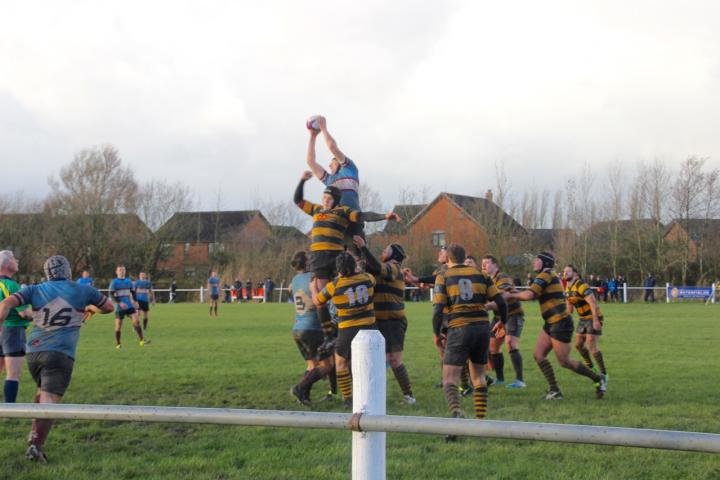 Saturday 30th. January 2016
Leigh 17 – 24 Wilmslow
There are times when a game of rugby has to be accepted for what it is and that includes the conditions in which it is played. Gertrude was blowing hard from West to East at Leigh's Hand Lane ground with malevolent looking clouds scurrying over, spitting out intermittent blasts of hail and sleat in a near freezing temperature. The ground was exactly as you would have expected it to be in January, very heavy, although to be fair recent drainage works, I believe, have improved the situation. On the undrained areas along the touchlines, the hardy had gathered in groups to view the spectacle, standing on sodden grass, churned up mud and some standing water, the more sensible had attired themselves in Wellington Boots. On the pitch, the players bounced up and down like rabbits as they tried to keep their circulation going and to generate some warmth. You get the drift! A messy close quarter encounter was in prospect, a classic of running passing rugby, it was not going to be.
Wilmslow had to face not only Gertrude for the first half but also a Leigh side which the previous week had hauled itself off the bottom of the league with a morale boosting win at Altrincham Kersal. They were up for this one, keen to tilt their lances against third placed Wilmslow.
For twenty minutes, the Wolves played not at all badly. Although mainly in their own half, they kept possession when they had it, driving hard around the fringes, recycling tidily and giving their backs the opportunity to test their opposition's defences. Twice they forced themselves into the Leigh twenty two and on both occasions scored. After ten minutes, the Wolves won a good attacking lineout out on the right touchline and after a handful of sorties close in, they released their backs for Bob MacCallum to draw the defence before offloading a delicious inside ball to Ed Stobart who wasn't going to be stopped from just a couple of metres. It took referee Robert Sheard twenty minutes before he awarded his first penalty of the afternoon to Wilmslow in midfield. MacCallum found touch in the same right hand corner, the move was repeated and although held up No 6 Adam Hewitt was across to take recycled ball and score in the left hand corner.
There was some controversy over whether Hewitt was in touch or not but the touch judge, Wilmslow's President Nigel Day, no less, was right on the spot and adamant that Hewitt had touched down before striking the corner flag. Subsequent photographic analysis of the incident suggests that both the touch judge and referee made the right call.
The third try followed five minutes later when right winger Nick Barker, replacing the injured Harry Patch, intercepted on half way and ran in close to the posts. That was as good as it got for the Wolves.
The game now took on the pattern that was to dominate for the next fifty five minutes. The Wolves dropped the restart and from the scrum Leigh set about their traditional pick and drive game. It wasn't pretty and it made only slow forward progress towards the Wolves try line which only once just before half time looked in any danger. Mr. Sheard, however, did not like the Wolves attempts to turn over Leigh's ball and nor did he like how long it took for them to release at the breakdown. Once a referee starts to notice things, he tends to see the same thing again and again. Five times in succession the Wolves were penalised in the ten minutes before half time and three times, it was in range for Leigh's full back Elliot Ryan to take the points, narrowing the gap to just eight at half time.
If you thought that with Gertrude now behind them, MacCallum would be able to pepper the corners with his kicking and that Ms. Clifford, Hewitt and Taylor would clean up in the lineouts for Stobart and the Maori debutant Hone Karaka to run pretty patterns through the Leigh back line, you would have been wrong. In fact, it was the Leigh forwards who started to exert a stranglehold with their more elementary pick and driving game, forcing the Wolves to continue offending on the ground and corralling them for long periods in and around their own twenty two.
Ten minutes after the break, the Wolves got their only second half score when a couple of long kicks up field were returned weakly by Leigh's defence, enabling fullback Ben Day to find space for a commanding run, like the Day of old, for try number four.
It was Wilmslow's turn to now miss a clearing kick, which was taken on the Leigh right wing and then spread across field quickly for winger Jimmy Wilkinson to loop round Olly Shepherd and take the scoring pass in the left corner. Back they came again and with ten minutes left yet another penalty gave Ryan the chance to make it 17 – 24 and to set up an 'interesting' finish. The Wolves managed to use up some of the time left deep in Leigh territory but when it was ruled that they had lost control in a lineout, Leigh had a final chance to save the game. Aided by three penalties in quick succession, they besieged the Wilmslow line in the time remaining. The defence held though and when Clifford got his hand to the final Leigh throw in the lineout, the ball was booted away to great relief all round from Wilmslow's supporters.
It was tough on the home side which had looked far better than a bottom of the table outfit. It was yet another game, their seventh, in which they had to settle for a losing bonus point and then to find themselves at the foot of the table again as Widnes beat near neighbours Warrington.
For the Wolves, it had been another potential banana skin and a reminder that on its day any side can beat another in this league. They didn't have many chances to score but they did well to make something of those few that came their way and they defended well to deny Leigh, for all their second half pressure, many clear cut opportunities. There will be concern at the 13 – 5 penalty count, which more than anything changed the flow off the game against them.
Next week, it's a re-arranged match at Stelfox against Altrincham Kersal.
Photo: Mike Clifford supreme in the lineout.
Match report by David Pike.
Tags: