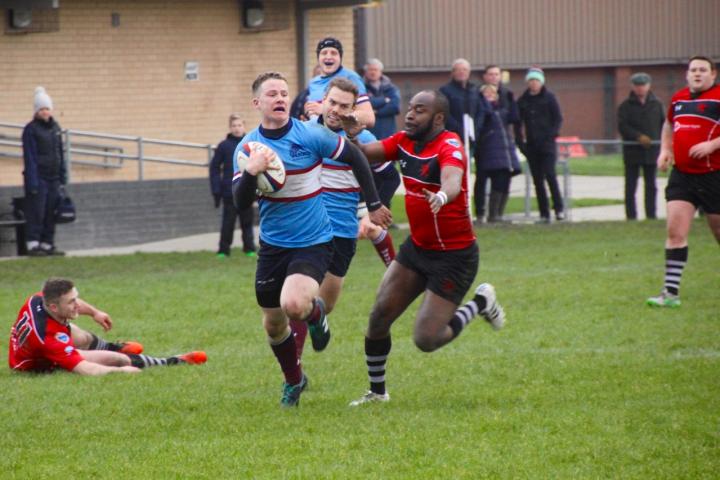 16th January 2016
North 1 West
Broughton Park 10 – 34 Wilmslow
The Wolves put a bad December behind them to start 2016 with what eventually turned out to be a comfortable win against their old adversaries Broughton Park. Five tries away from home, for the fifth time this season, is never to be sniffed at and showed that the side had lost none of its potency in the four weeks since they last played.
It wasn't all one way traffic though as Broughton Park showed that they two could play a bit with two well constructed tries either side of half time. That made the score 10 – 15 and a third score for them at that time would have made things very interesting. The Wolves though, helped by some savvy substitutions from coach Rick Jones, pulled away quickly with two further tries by the end of the third quarter and were able to canter home at their leisure in the final twenty minutes.
That the game had developed into a contest just after half time was really the Wolves own fault. After opening up a 15-0 lead on the half hour, they knocked on at the restart.
Park took the scrum cleanly and with some good running, passing and recycling found themselves with men over out on the right, giving winger Warren Duffy an easy run in.
Emboldened by this success, they started the second half in the same vein, taking the game to Wilmslow and after several phases putting their left winger Adedayo Titeloye into space for a second score. It then took a loose kick ahead for Wilmslow to get their hands on the ball again and to seize back the initiative.
Up to that point, the Wolves had enjoyed most of the pressure and field position but it had been a day when they'd been careless with the ball at the breakdown and a bit hasty with their passing, leading to knock ons, missed opportunities and turnovers so Park had always had a chance to counter and on another day might have capitalised even more.
There'd been doubt over some lingering frost in the ground prior to kick off so referee James O'Brien had allowed the captains to decide, whether the game should go ahead. Neither wishing to be out done by the other, both Park's Paddy O'Donnell and Wilmslow's Mike Black decided it would be on. The Wolves were the first to show, all hustle and bustle, earning two early penalties, the second of which Bob MacCallum put away from the Park twenty two.
The hustle though led to messy ball from the breakdown, the Wolves were penalised and Park had a couple of opportunities to kick for the corners. Mike Clifford, however, was back in the lineout for the Wolves and stole the first Park throw and then his presence, no doubt, was enough for the next throw from Park to be ruled squint. Park were then forced back on the defensive and earned two Yellow Cards in quick succession. MacCallum put the ball into the corner but the Wolves, despite a two man advantage, conspired to lose the throw.
Unfortunately for Park, their scrum half Lawrence Stansfield was one of those in the bin and their weak clearance was taken by Wolves full back Ben Day, rock solid under the high ball all afternoon and he put right winger Harry Patch away. Patch still had a lot to do but he pinned his ears back and not for the first time this season, his power and pace took him to the line for a fine individual score.
Ten minutes later, Park again lost possession and Patch was sent on his way again from about halfway. He had a bit more space this time as he brushed off some not very convincing tackling to run in under the posts.
Park's revival pulled it back to 10 – 15 but they kicked possession away. There was a period of Wilmslow pressure and park then conceded a penalty as Wilmslow came again. MacCallum planted it in the corner. Jones made the first of his inspired changes, replacing prop Alex Donaldson with Jordan Ayrey, who repaid the confidence shown in him by breaking off from the lineout drive and powering over for the Wolves third try. He'd only been on the field about thirty seconds. MacCallum then charged down a probing kick by his opposite number and from the ensuing lineout in the Park twenty two the ball was quickly moved to centre Ed Stobart, who broke the line and raced away to score under the posts.
At 10 -27, there was really no way back for the home side. Briefly, they might have taken three points from a straight forward looking penalty but time was running out so they opted to kick for position but were again unable to break the Wolves defence. In the final minutes, Jones replaced Sam Cutts with Nick Barker on the left wing. This paid immediate dividends when the Wolves got turned over at the breakdown but capitalised on a weak Park clearance. The ball quickly made its way to Barker, he was off like a hare, seeing off the chasing Park greyhounds, for try number five. Finally Patch had an opportunity to get his hat trick but decided to kick instead and the referee then blew for no side.
A good win in the end, some excellent rugby at times, mixed up with a fair amount of less impressive stuff. No doubt, Jones and his team will be working on that this coming week as they prepare for next Saturday's home fixture against Blackburn.
Photo: Catch me if you can! Harry Patch on his way for his second try.
Match report by David Pike.
Tags: