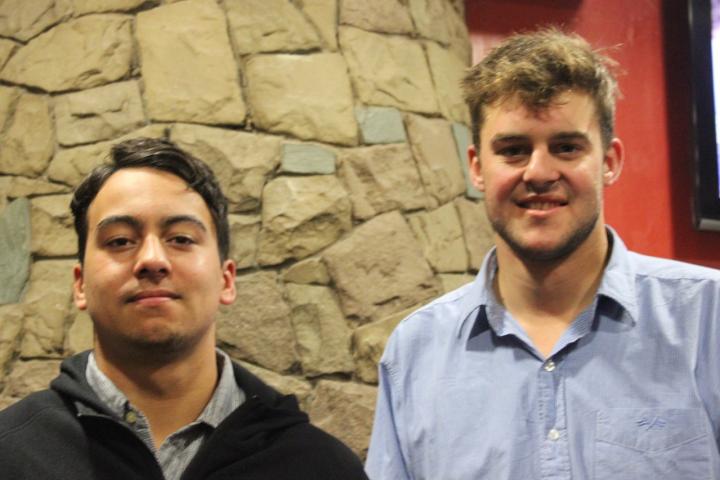 Saturday 9th. January 2016
Standish Media League
Wilmslow Vikings 22 – 0 Altrincham Kersal
It was more a swamp than a rugby pitch up on the Jim Evison Field last Saturday but ruled to be playable by the referee for the reserve teams of Wilmslow and Altrincham Kersal to set about each other. With such a soft squelchy surface though, it was hard for any of the players to get much purchase with the ground. Consequently, they were continually losing their footing and proceedings were conducted at a slow pace. It was a game though, which the players themselves seemed to enjoy and there were no complaints afterwards even though it had been hardly any spectacle.
The Wolves match at AK was called off early on the Saturday morning by the referee, the only NW league match lost to the weather. A pitch inspection had revealed large pools of standing water with more rain forecasted. By kick off time, the water had largely drained away and it didn't start raining again until late in the afternoon. Wilmslow and Altrincham are not exactly miles apart, barely fifteen minutes from one ground to the other, so this was a case when a later decision could have been made without causing undue inconvenience. On the other hand, there have been several matches recently in Cumbria where the go ahead was given by 10.00am, to enable travelling teams to set off, only for conditions to worsen to the extent that by kick off time the games concerned should probably have not taken place. All this just goes to show how difficult it can be to make the right call when conditions can change so quickly.
The Vikings welcomed back lock forward Mike Clifford from taking paternity leave during the autumn. He looked as fresh and sprightly as a spring lamb and was the outstanding player on view. Wolves coach Rick Jones was also impressed by Callum Rowe's showing at No. 10., in particular his decision making in running the game. There were also very promising debuts for Hone Karaka in the centre and Tom Williams at No. 6, both new arrivals taking a gap year from New Zealand.
The game was largely dominated by the Wilmslow pack. Jordan Ayrey was back at his best in the front row and you can't keep the influential Robert Taylor off a rugby field for long. They shunted their opponents over their own line for two tries and the third was scored by Callum Rowe.
A good afternoon for the Vikings, extending their top spot in the league.
Wilmslow RUFC welcomes Hone Karaka and Tom Williams
Wilmslow RUFC have welcomed two new players from New Zealand, here in the UK on a twelve month gap year. Reports back in New Zealand from the now departed Legin Hotham and Vili Tuipulotu of the Wilmslow experience have all been positive and the two eighteen year old newcomers needed no second thoughts about accepting the invitation.
They will take up boarding and other general duties at Terra Nova School, be involved in some rugby coaching there and play their club rugby at Wilmslow. During the off season they have plans to travel in both the UK and Europe and to take in a few 'festivals'. When the time comes in December to return home, Hone is planning to attend the University of Waikato to study Sports Sciences and Tom to study viticulture and oenology, probably at Lincoln University, Christchurch.
On the rugby field, both boys played for their school's 1st. XV, one of the most successful school rugby teams anywhere in the world. Tom is a big strapping back row player, whilst Hone will fit in anywhere in the back three or centre. Rugby is a serious recreation for them and both are keen to advance to the highest levels in the game if they can. Their first appearance for the Wilmslow Vikings was full of promise and represents their first step in the adult game. But rugby is not their only sports interest. Tom was part of this year's Under 18 rowing crew which won New Zealand's premier schools trophy, the Maadi Cup, whilst Hone excels at Olympic Class wrestling, having won a host of honours at his weight.
Their predecessors both enjoyed their Wilmslow experience and we hope that the same will be the case for their successors. Have a great time, boys, whilst you're with us!
Photo: (l-r) Hone Karaka and Tom Williams.
Report by David Pike.
Tags: