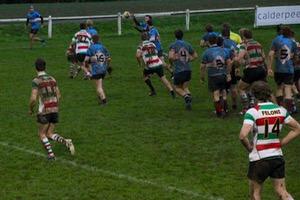 Wilmslow under 21's 10-10 Stockport under 21's
Some brave souls swim in the Serpentine; others rush enthusiastically into the sea, perhaps regretting it within a few seconds of entry; a few surround themselves with chocolate oranges and mince pies from the day before, quietly and silently contemplating a New Year's diet. In the mind's eye of a certain MW McCall, returning students and formers players of the oval ball, whose hair has not yet greyed or receded should play rugby on Boxing Day.
Signalling perhaps one last hurrah for Ric Noden, erstwhile coach of the 'class of '13', an assembled group of students and mates gathered to take on the same from the old foe, up the road at Stockport RFC. Ably cajoled and led by the imperious Simon Green, the Stockport lads arrived and played with a fierce determination, re-enacting the 20 or so games these young men played while rising through the ranks of mini, and then junior rugby.
Robert Taylor, an impressive player and leader, and Simon Green pitted their teams against each other with youthful ferocity; nobody wanted to lose this one. Wilmslow scored first, perhaps against the run of play through a break by Callum Westaway. It was typical of Callum to feint and out-fox would-be tacklers as he's done oft before; Cullum has always been an assured presence at 10. Perhaps 12 shows off his skills more, but that is a debate he and I will have for eternity.
Stockport fought back, perhaps aggrieved by being down a score on a heavy pitch. Moving the ball 30 metres was proving a 10-minute task. Stockport however, equalled the score with a well-orchestrated barge over the Wilmslow line, down in 'cow corner', and far from the madding crowd.
The application of all the players tested the referee, Dan Taylor who officiated with aplomb, allowing players to play, a point missed by so many officials at the top level. As the crowd of 200 or so brave souls settled in to a little bit of Rusty and Keith's guest ales, and washed down the visiting street food vendor, Barrel's Burgers Fayre, the game took hold. Wilmslow had the better of the first half and soon enough after what seemed like an eternity in Stockport's 22, Noden and Westaway, back in harness at half-back again crafted an opening with a fine looping miss pass for Robert Shotton to run in a fine score.
Half time oranges, a salute to the past, witnessed steely words being exchanged. It was clear that more was at stake then merely the Sue Fisher Memorial Trophy. Sue, the life partner, soul mate and best mate of our full-of-rugbyness and club 'glue', former President Barry would have been as proud of us lot scrapping away in the mud, as we all are of her brave fight, lost with honour in November. This trophy shall be played on every Boxing Day until we all meet our makers.
Stockport's defence was fantastic; this game was being defined by strong tackling. As Stockport time and again attempted to break out from their try line, their passion and will to do so was perhaps a dangerous ploy, but try they did. Joe Welsh was at the heart of everything good, as was Wilmslow's back rower of back rows, Paddy Wheeler. I've known Paddy for years as a fellow 'treader of the fine lines' between onside and offside. Paddy has learned the meaning of a hair's breadths well. While Stockport ruined the Wilmslow lineout, Wilmslow had a huge advantage in the scrum. This was a game of fine margins.
As the game progressed and the pitch became heavier and heavier, Stockport gathered renewed vigour and all credit to them created a chance to earn parity. A smart kick into Wilmslow's 22, an attempted clearance which was gathered superbly well, and after a bullocking run down the right wing Stockport scored. 10-10 with a chance to win it was Stockport's reward. The conversion was a tough chance. If this had been scored it would have been a deserved victory. As the ball faded and died short of the uprights, 10 all seemed like a fair result. As the gloom settled across Pownall Park, players and supporters alike gathered for post match refreshment. While it's fair to say that rugby was the undoubted winner, there were no losers on a day like today. Only good can come of this occasion that will now become our club's tradition, thanks be to McCall and Noden for delivering Christmas cheer to us all.
Match report by Mark Shotton.
Tags: