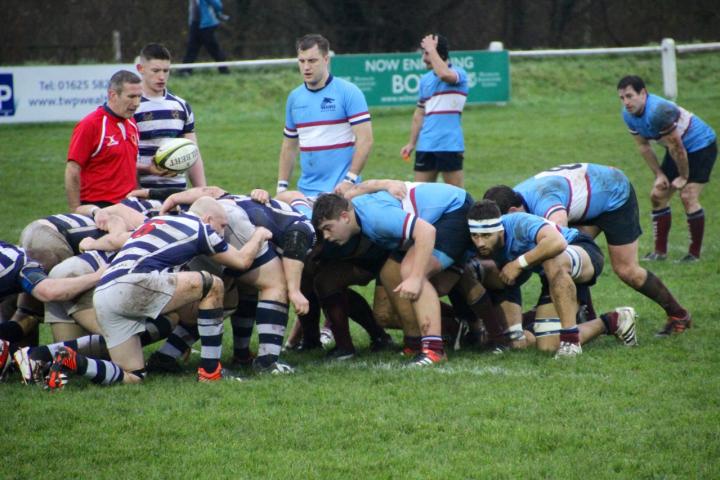 Saturday 19th. December 2015
North 1 West
Wilmslow 3 – 7 Eccles
There was no doubting Wilmslow's spirit and desire for the contest against Eccles but in the face of an heroic defensive effort by the visitors, the Wolves just didn't have the tactical nous to find a way through. Coach Richard Jones was very disappointed afterwards, particularly with his side's decision making and carelessness. 'We were just naïve' he said.
True though it was that it had been another difficult afternoon on which to play rugby, a sodden surface, a slippery ball, a capricious wind and intermittent rain, the Wolves could have no complaint at the end. Despite playing virtually the whole of the second half in or around the Eccles twenty two, their set piece and lineout wasn't always solid and as they chased the game their ability to retain possession just became unreliable.
Eccles, for their part, clearly felt that they had the measure of this Wilmslow side and helped by the conditions and some lenient refereeing put in a tenacious defensive shift, which time and again thwarted Wilmslow's attack, when it seemed that a score must come. They stuck to their guns and at no side had earned and deserved their win.
Wilmslow had been slow to start and for the first fifteen minutes, all the rugby came from the Eccles team. It was no surprise when on the quarter hour, a quickly taken tap penalty in the Wilmslow twenty two, stretched the home side's defence and after recycling several times a gap opened up for their prop forward Mark Greenhalgh to run through and score a try converted by George Oakey. Only at the start of the second half, when a penalty to the corner set up a catch and drive attempt, did they ever threaten to score again.
After conceding the try, Wilmslow started to wake up but real scoring opportunities were hard to come by and it took a MacCallum penalty from forty metres as half time approached to get the Wolves on the scoreboard. MacCallum had several penalty opportunities in the second half but in the conditions none of them were absolute 'gimmees', so he opted to kick for the corners. This set up classic opportunities for catch and drive rugby but although the lineouts were generally won, it wasn't always clean possession and the forwards were just unable to get sufficient forward momentum to cross the line, any kind of line in fact. It's always easy to be wise after the event but in the face of regular infringements by the Eccles defence, maybe, taking three points would have encouraged them to stay a bit more honest, knowing that only one point divided the sides and that another infringement could have been fatal to their cause.
Nor was there any inspiration in the Wolves back play. They had their chances and went agonisingly close more than once but the final pass was always snuffed out by the Eccles defence. You felt that just one score would suffice to open up the game. The conditions, of course, were extremely difficult but if you want to be a top side, you have to have the patience to come up with the solutions that will break down obdurate opponents on a wet wintery afternoon.
It was a disappointing end to Wilmslow rugby for the two young New Zealanders, Legin Hotham and Vili Tuipoluto, who have made such an impact in the last eleven months. Their gap year is now over and they return home to take up places at the Universities of Otago and Waikato respectively. They are both not just outstanding rugby players, whose future exploits we shall watch from afar but also two of the most agreeable young men, you could ever hope to meet, who whole heartedly entered into events at the club and also in their duties at Terra Nova school. They will be hard to replace. The show though has to go on and coach Jones now has to find a way of remotivating his side for the second half of the season.
Match report by David Pike.
Tags: