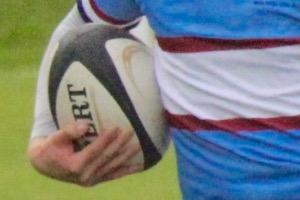 Saturday 12th. December 2015
North 1 West
Kirkby Lonsdale 3 – 0 Wilmslow
Kirkby Lonsdale's Underley Park ground is situated several hundred feet above the northern fringes of the town below. Beyond it, the Dales rise even higher so on the kind of day that it was last Saturday, rainwater, accompanied by an ice cold north wind, just cascaded down through the ground, helping to fill the river Lune below. It had been raining for hours, there was surface water on the motorway and patches of standing water on the just passable roads approaching the town itself.
There was no standing water on the pitch itself but water squelched and squirted upwards as the players trod on the ground, making it near impossible for anyone to run. Many people felt that the game should not have taken place but there was a large group of sponsors present for lunch beforehand and the KL club was particularly keen that there should be a game for them to watch. There were ironic cheers from the faithful gathered on the touchline, reports Kirkby's correspondent, when the referee Dr. Tyrone Castles, a vision clad all in pink, squelched onto the field to get proceedings underway.
Unsurprisingly, both sides' defences were on top throughout, good handling was near impossible in the conditions, both sides regularly knocked on and the backs without any scrummaging to warm them up became colder and colder in the near freezing rain. It was no way to treat Wilmslow's warm weather Maori, Vili Tuipulotu, who looked close to getting hypothermia. I'll bet that he and Legin Hotham will be looking forward to getting back home for Christmas and the New Zealand summer. At no side, there was a rapid exit by all the players to get under the warm showers before even stripping off their kit.
There were a handful of half breaks from both sides but nothing to beat any covering tackle. There was a tireless performance from Nick Edney in the Kirkby second row and their South African, Lwazi Ngcumgama carried the ball well. For Wilmslow, the pack lasted the course well with their two Scottish Exiles, Andy Walker and Alex Donaldson standing out; it's probably in their genes to handle such inclement winter conditions.
The home side played down the hill towards the town end in the first half, spending most of its time in or around Wilmslow's twenty two to no good effect. At half time it was 0-0 and Wilmslow's opportunity to turn the screw but on the chewed up turf they were no more successful than Kirkby. There was a slight easing in the rain later on but the icy wind picked up even more. Kirkby managed to break the siege momentarily and to earn a penalty 30 metres out. Tom Pickthall stepped up and somehow kept his balance and footing to kick the match winning goal into the teeth of the gale. It was tough luck on a spirited Wilmslow side, which deserved better than what it got. A 0-0 draw would have been a fair result as it had been a harsh decision to adjudge Wilmslow offside.
"In a lifetime of rugby", the septuagenarian Barry Fisher said afterwards, "I never had to play in conditions as bad. They were the worst I've ever seen."
The result was four league points for Kirkby taking them back to the top of the league whilst Wilmslow drop back to third, behind Kendal whose home match against Blackburn was postponed. There's still everything to play for.
Match report by David Pike.
Tags: