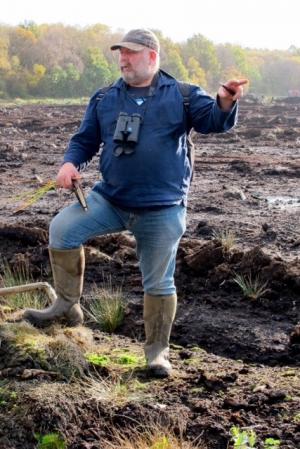 A local preservation society written to MP George Osborne outlining their concerns about Lindow Moss
Tony Evans, Secretary of Saltersley Common Preservation Society, to the Chancellor saying "We wrote to your predecessor Martin Bell and have written to you periodically since. We now write in desperation."
He continued "After being ignored and/or misled, first by CCC and now CE, in 2012 we took our complaint to the LGO. The conclusion was 'There has been maladministration by the council... which should not persist'. This was because we claimed three planning conditions had been ignored. The council response, to The Wilmslow Express, 'We've taken into consideration the comments by the Ombudsman. We are encouraged that she could find no link between the historical maladministration and the harm the complainant claims'. Needless to say, nothing happened and the problem has got worse. We even received a letter from a past employee saying she 'refutes' the Ombudsmans report.
"As the problem got worse Joel Millet, the owner of Newgate Kennels appointed a planning consultant who arranged a meeting with counsel. The meeting took place last November and we were encouraged to proceed as counsel thought our case was justified.
"As two breaches involve hydrology a consultant hydrologist was commissioned to look into our complaint. Not only were the conditions not in place (a sluice and settling pond) but we were advised that the Water Resources Act 1991 had been breached. We have taken this complaint to the Environment Agency and are still in communication with them through their complaints procedure.
"Another breach was the Water Vole Protection Scheme. Knowing that this hadn't been enforced (despite CE's claim to the contrary) in 2010 SCPS commissioned Derek Gow of the Derek Gow Consultancy Ltd., to do a survey of the site. Derek is an acknowledged expert on water voles and water vole conservation. His report proved that none of the proposals to safeguard the now diminishing population had been enforced. Even the consultant employed by the operators agreed this was the case. CE ignored the report.
"Another walkover survey was completed by Derek on November 15 this year. As expected, the moss is a disaster with Derek stating 'he has never see a site so comprehensively trashed'. From the moss being a stronghold for an endangered species he found evidence of one location. In fact Derek sent his report to Natural England and the Environment Agency. Natural England say they can't do anything, strange when you read the Natural England mission statement.
"This brings us to the present and even more bad news. In February this year we reported that sand was visible in some of the ditches. This is a breach of condition number 31 which says 'no sand will be dug or disturbed'. CE said this would be reported to the operator and a meeting called. In August we wrote to ask the outcome of the meeting to be told 'the operator declined a meeting' proving just who isn't in control of the site."
Tony added "Last Thursday and Friday a tractor extended and deepened the ditch system, including the ones where sand is already exposed. Almost in spite it seems.
"We will be meeting with Cheshire East in December. If there is no satisfaction it is our intention to go back to the LGO. After all, as we have pointed out on many occasions, someone will have to pay and we don't think it will be the operator. Not if their current financial status is correct."
We will publish an update when a response from George Osborne is received and SCPS have met with Cheshire East Council.
Ecological consultant Derek Gow during his recent survey of Lindow Moss, after which he told wilmslow.co.uk the "peat extraction is simply devastating".